Almost as soon as the government moved to shut down theatres and music venues to slow the spread of coronavirus, many artists moved rapidly to set up fundraising measures and some even took their performance schedules online. One of the early adopters in Scotland was Stina Tweeddale, founder and main driver of Glasgow-based indie rock group Honeyblood, who initially broadcast a short session over the internet at 7pm every night from her Iceblink Luck studio in Glasgow.
At first she played sessions on her own, or welcomed guests including Martha Ffion and Emme Woods, yet clearly the situation has now changed. "Before we went into lockdown, I got a taxi and chucked all the stuff I could get from my studio into it, and took it home," says Tweeddale. "I think people are enjoying the sessions, and they've been a little bit of structure to my day. I did them because I'm so used to playing - I don't know if I'd be able to go two months without playing music."
Things change fast at the moment, and although Tweeddale said when we spoke that she intended to continue the sessions every so often – as well as half-joking about live-broadcasting karaoke and cookery – she's since said through social media that her personal crowd-funding target has been met (she shared the money which came in with her guest artists and the charity Help Musicians Scotland). So, instead, she's going to document the experience of recording a solo album at home.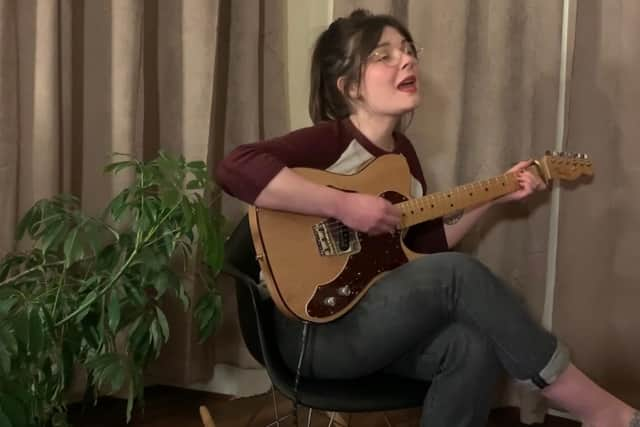 "It's really hard for everybody right now, because we don't have any sort of guidance," she says, "but I'm sure people understand that working musicians' livelihoods have just been squashed."
"I don't want to be too much of a Debbie Downer about it, though, because it's been really nice to have some reflective time. I was planning to record a solo record anyway, and this is maybe the time to do it."
For her Scotsman Session, Tweeddale has chosen the Honeyblood song The Third Degree: "It works well stripped back and the lyrics to the chorus are 'no, no drama'. Maybe that's fitting – just keep calm."
For future live streams and album recording updates, see Honeyblood's social media channels, including https://twitter.com/yumhoneyblood, and https://www.gofundme.com/f/honeyblood-studio-sessions