Katherine Wren usually spends a lot of her time in the viola section of the Royal Scottish National Orchestra. But, despite the current lockdown and curtailment of live performances, she says she's busier than ever: practising, learning new pieces (the difficult ones you put off during busier times), and also working on a project that's close to her heart – Nordic Viola.
Her quietly pioneering project was partly inspired by a trip to Greenland in 2015. "I wanted to learn more about the country over a longer period of time, and become more embedded in the community," she says of her reaction at the time. The opportunity came with a sabbatical she took from the RSNO the following year. "It lasted for seven months in total, and I travelled to the Faroe Islands and Iceland, then I went to Shetland for a month, and finally I spent another month in Greenland during the winter, which was fascinating." During those visits, she played and improvised with local musicians, commissioned composers to write for her and held workshops and masterclasses for young performers. Since then, her project has moved on dramatically, with performances across Scotland as well as in the Faroes and Iceland. "I never expected it to take off like it has done,' she admits. Nordic Viola has twice been nominated in the Making It Happen category at the Scottish Awards for New Music: Wren will discover whether she's won this year's award on 14 April.
For her Scotsman Sessions performance, she has chosen Joy by Orkney composer Gemma McGregor, one of the many works to have come out of Nordic Viola. "It was originally written for violin," Wren explains, "but Gemma suggested it might work well on the viola, so she transcribed it for me to play. It was inspired by a quartet of Norwegian Hardanger fiddlers she heard at the Shetland Folk Festival, and she was trying to get a sense of the unusual tunings they use, and also the resonances of their instruments. It's such a joyful, happy piece, so carefree – you can't help but smile if you're playing it or listening to it."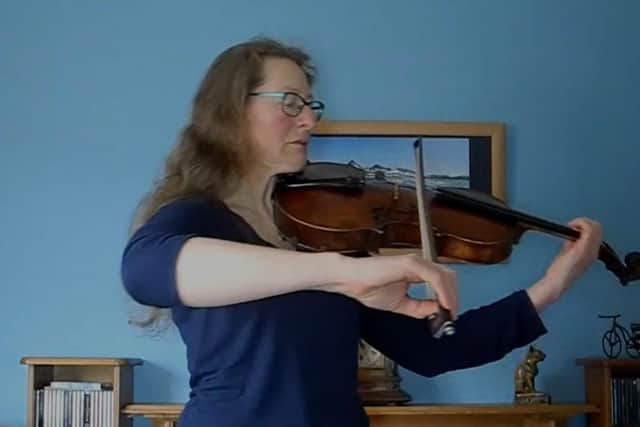 http://nordicviola.wordpress.com/