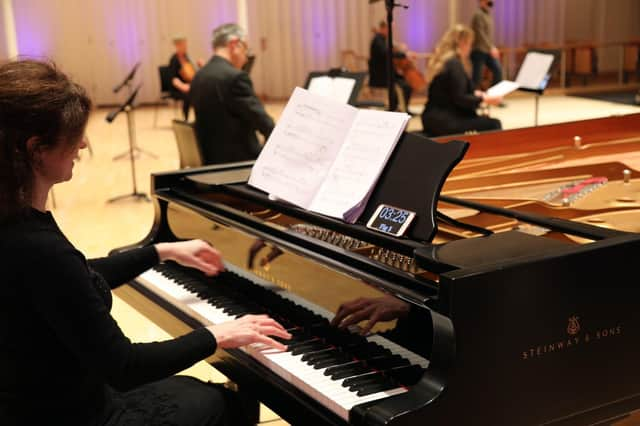 "I'd suggest just getting stuck in." Alasdair Campbell, co-curator of the BBC Scottish Symphony Orchestra's Tectonics weekend alongside conductor Ilan Volkov, is offering advice for newbies to the freewheeling festival of musical experimentalism, an all-online and broadcast event this year. "If there's an artist or a composer you know, start with them, listen to a few other things, come back later to try other things. That's the advantage of it all being online."
Tectonics had to be cancelled at the last minute in 2020, though it was quickly replaced with an impressive collection of online performances drawn from the festival's seven-year archive. And, despite hopes that it would make a live return complete with audiences in 2021, being reborn online seems only fitting for a festival that celebrates the new, the cutting-edge and the risky, with boundary-hurdling artists and music, playfulness, seriousness, complexity, simplicity and everything in between.
In its live incarnation, the sheer eclecticism and range of Tectonics can feel a little overwhelming. Online, however, it allows for more reflection, and for more choice as to how you take it all in. Go for total immersion, with events scheduled throughout both days of the weekend of 8-9 May, or dip in and out at your leisure: everything in the festival remains online on the BBC SSO website for 30 days afterwards.
Indeed, this year's Tectonics is a mix of the live and the recorded, a fact that's allowed Campbell and Volkov to cast their net wider than usual. "A lot of our international artists have sent in pre-recorded material – some audio, some video, even some texts," explains Campbell. "We've been able to work with artists abroad in a different way, and link up internationally in a way that's a really positive development at this crazy time."
In addition, and stressing the event's local focus, there are recordings from Glasgow-based artists made in City Halls, and two live concerts from the BBC SSO, broadcast from 10pm each evening on BBC Radio 3, and complete with video on the orchestra's website.
As ever with Tectonics, amid such a broad and diverse spread of contributors, it's almost impossible to pick highlights. Nonetheless, we'll try. Michael Parsons is one of the group of English experimental composers who congregated around Cornelius Cardew in the 1960s, and his new Saitenspiel gets its world premiere performance. "I'm dying to hear that," says Campbell. "We commissioned Michael ages ago: I know his chamber music, but this is a big piece for strings, and I'm really looking forward to it." Another world premiere is the unimportance of events by Marc Yeats ("It's meant to be the most difficult pieces in the whole festival," admits Campbell), which atomises its 22-piece orchestra into individual soloists, each playing at their own stopwatch-controlled times and tempos.
Similarly, Australian composer Cat Hope's The Rupture Exists sends the BBC SSO players to the far corners of City Halls, each playing from an animated score on iPads and attempting to establish connections between their individual sounds. One of the most intriguing elements is a video performance by French musician and instrument maker Frédéric Le Junter, who's been constructing weird and wonderful musical contraptions out of unlikely objects since the 1980s. "His video is amazing," says Campbell. "He's playing all these instruments on his farm – if he'd come across in person, he just wouldn't have been able to bring all of those instruments with him."
Though it was born out of necessity, Campbell believes that the online side to Tectonics will remain, and also increasingly infiltrate artists' work. "I think it will develop a lot. The artists have really risen to the challenge of online – whether everything will be successful, we don't know yet. The question now is how we move forward, and whether we keep some of this in the longer term. In any case, we can definitely reach a bigger audience this way."
Tectonics run from 8-9 May, online at www.bbc.co.uk/bbcsso and with live broadcasts on BBC Radio 3, on 8 and 9 May from 10pm-12 midnight
A message from the Editor:
Thank you for reading this article. We're more reliant on your support than ever as the shift in consumer habits brought about by coronavirus impacts our advertisers.