Super Bowl halftime show: most memorable performances at the NFL Super Bowl Sunday - from Michael Jackson to Beyonce
The Weeknd will headline the 2021 halftime show – Miley Cyrus to lead the pre-game festivities at Super Bowl 55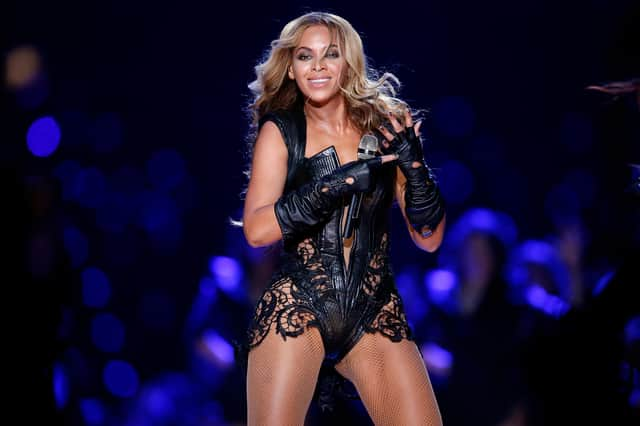 Beyonce performs during the Pepsi Super Bowl XLVII Halftime Show at the Mercedes-Benz Superdome in 2013. (Pic: Getty Images)
Though it wasn't always the ratings magnet it is today.
Before Michael Jackson wowed audiences in 1993, the halftime show at the NFL's championship game was reserved for college marching bands and drill teams.
Now the halftime show attracts artists known all over the world, with high production and the odd wardrobe malfunction proving almost as popular as the game itself.
So let's reflect on some of the more memorable halftime performances over the last 30 years.
There's only one place to start, and that's with the late King of Pop.
Michael Jackson's 1993 halftime show increased TV ratings by such a significant amount the NFL made a deliberate effort to attract pop acts for future performances.
MJ performed Jam, Billie Jean, Black or White and was joined on stage by a children's choir for We Are the World at the Rose Bowl, California, on 31 January 1993.
In celebration of the Super Bowl's 30th anniversary, lead singer of The Supremes Diana Ross headlined the halftime show at the Sun Devil Stadium, Arizona.
She performed a medley of Stop In The Name Of Love, You Keep Me Hangin' On, Baby Love, You Can't Hurry Love, Why Do Fools Fall In Love, Chain Reaction, Reach Out and Touch, Ain't No Mountain High Enough, I Will Survive, and Take Me Higher.
The performance featured a stadium card stunt and saw Ms Ross taken from the stadium in a helicopter for the finale.
In tribute to those killed in the September 11 attacks, organisers opted for U2 to adopt the right tone following the tragic events of five months earlier.
The band played three songs - Beautiful Day, MLK and Where The Streets Have No Name - in a moving performance which saw the names of those killed projected in the stadium.
Lead singer Bono opened up his jacket to reveal an American flag in the finale at the Louisiana Superdome on 3 February 2002, attracting an audience of 82.9 million viewers in the US.
Janet Jackson and Justin Timberlake - 2004
A collection of artists appeared on stage on 1 February 2004 at the Reliant Stadium in Houston, Texas for Super Bowl 38, including Jessica Simpson, P. Diddy, Nelly and Kid Rock.
The halftime performance pulled in an audience of 143.6 million viewers and sparked debate over perceived indecency.
The former Beatles front man ensured that music would be the focus of the discussion around the halftime show the following year with a memorable set of classic tunes.
Paul McCartney performed Drive My Car, Get Back, Live and Let Die and finished with Hey Jude in his halftime set at the Alltel Stadium in Florida on 6 February 2005.
Bruce Springsteen and the E Street Band - 2009
The decade was seen out by The Boss at the Raymond James Stadium in Tampa Bay, Florida, on 1 February 2009.
Joined by his E Street Band, Bruce Springsteen performed Tenth Avenue Freeze-Out, Born To Run, Working On A Dream and Glory Days.
Springsteen had previously turned down several invitations to perform during halftime - but his 2009 set was proof that good things come to those who wait.
The Queen of Pop made an entrance like no other, entering the field on a golden throne to belt out Vogue.
Madge was joined by a variety of artists, including LMFAO, Nicki Minaj, MIA and Cee Lo Green for a five song setlist, which ended with Like A Prayer.
The performance attracted an audience of 114 million viewers and ended with a huge robed choir joining Madonna and Cee Lo on stage at the Lucas Oil Stadium in Indiana.
Beyonce's highly energised performance breathed fresh life into the halftime show, which became the second most watched halftime show in the NFL's history.
Run The World, Love On Top, Crazy In Love, End Of Time and Baby Boy were all performed before Kelly Rowland and Michelle Williams joined her on stage for a Destiny's Child reunion. Bootylicious, Independent Women and Single Ladies followed before Beyonce finished with Halo.
And, as the audience caught its breath, the lights went out at the Mercedes-Benz Superdome in New Orleans, sparking a flurry of 300,000 tweets per minute.
For the first time in eight years, the halftime show had no special guests. Lady Gaga performed a medley of her hits at the NRG Stadium in Houston, Texas, on 5 February 2017.
Songs included This Land Is Your Land, Poker Face, Born This Way, Telephone, Just Dance, Million Reasons and Bad Romance - becoming one of the most watched halftime shows.
It attracted much praise for the visual effects and impressive vocals, while her exit included a mic drop, catching of a football toss and hopping off a staircase.