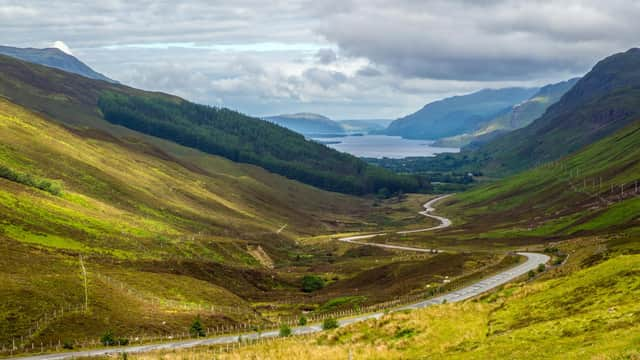 The view of Loch Maree from Glen Doherty - part of the North Coast 500 scenic route around the Highlands. Picture: Getty Images/iStockphoto
Staycation Scots are being urged to wear face masks in all "confined spaces" when they go on holiday around the country this year.
VisitScotland's first post-lockdown marketing campaign is also encouraging families to stay "close to home" to ensure public transport services do not come under pressure and reduce the risk of remove communities being "overwhelmed by a sudden influx of visitors."
Official guidelines for the first wave of holidaymakers warn they face making a "wasted trip" unless they pre-book every element in advance at businesses and attractions which may be closed or reduced capacities.
Parents are being encourage to ensure their children do not "wander off and mix with others" when they are on a staycation this summer, while people in shielding categories or with coronavirus symptoms are being urged not to travel at all.
VisitScotland will be launching a "call to arms" campaign film in the run-up to the planned reopening of hotels, attractions, bars and restaurants next month, telling Scots: "Your country needs you."
Built around a key message of "you don't have to travel far, the film will also state: "Connect with something other than wifi and reconnect with the people you love, in the country you love."
The tourism body has created a "visitor pledge" which urges people to limit the number of locations they visit, spend more time in the one location and think about "slow travel" options for holidays, such as walking or cycling.
Further phases of the recovery campaign will aim to extend this year's main tourism season into the autumn and winter by focusing on the rest of the UK and Ireland.
The tourism agency said the first phase of the campaign would "remind Scots that there's a lot to discover close to home that will make a big difference to their health and wellbeing after a period of staying at home, but also make a big difference to Scotland.
VisitScotland marketing director Vicki Miller said: ""The Covid19 pandemic has had a devastating impact on the tourism and events industry so it's vitally important that we work together to help restart the sector.
"Our teams have been putting together a marketing strategy that will support regions and sectors, by working with our partners across the country to create a collaborative approach to welcome visitors again.
"We look forward to helping encourage Scots to rediscover their own country, supporting businesses as they prepare for the inevitable operational changes and ensure that communities feel comfortable and capable of welcoming visitors in a safe way.
"It won't be one size fits all however, we need to move at a pace that will be right for each part of Scotland, depending on the demographic of each region and how they've been affected by the pandemic."
Scottish tourism minister Fergus Ewing: "I very much welcome this new campaign by VisitScotland to kick start the safe and strong return of Scotland's tourism sector. The campaign highlights the very many fantastic locations
and attractions that lie close to home for so many of us.
"By taking our first small steps back out on Scotland's tourism trail, we can again begin to safely enjoy all of the benefits that our wonderful country has to offer - knowing that we will be helping not only our own wellbeing, but the wellbeing of our tourism sector."