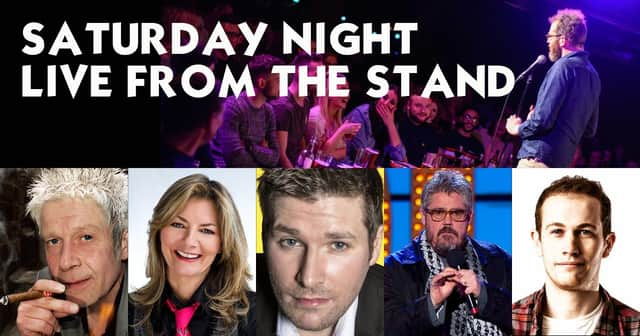 Broadcaster Des Clarke, Gary: Tank Commander star Greg McHugh, playwright David Greig, actor and comic Richard Gadd and Britain's Got Talent star Lost Voice Guy were among the other high-profile figures to back its pleas for help.
The Stand, which runs hugely popular clubs in Edinburgh and Glasgow, confirmed it was forced to start a formal redundancy process last week after running up losses of more than £340,000 due to the prolonged close of arts venues since the middle of March.
The Stand has also joined forces with other key industry players, including long-standing Fringe operators Gilded Balloon, who run a year-round venue in Edinburgh, and the organisers of the Scottish Comedy Awards and Glasgow Comedy Festival, and the Breakneck Comedy Club in Aberdeen to publish an open letter warning the Scottish Government and Creative Scotland that Scottish comedy is at "breaking point."
The open letter, which has also been signed by Daniel Sloss, Danny Bhoy, Janey Godley, Iain Stirling, Gavin Mitchell, Mark Nelson and Susie McCabe, says immediate action in the form of ringfenced funding for the sector is needed to "prevent the collapse of dedicated comedy venues ensuring individual performers and can sustain themselves."
The letter states: "If this is not secured many clubs, venues, producers, promoters and performers will be lost forever, and the Scottish arts scene will be the poorer for it."
The Stand, which was co-founded and run by the SNP MP Tommy Sheppard before his election, said it has been left with no choice after having "no solid offers of real help" from either the government or arts agency Creative Scotland. It says it needs half a million pounds to be able to survive the coronavirus crisis.
In a new statement, The Stand issued a direct plea to the government and Creative Scotland: "Stop the unbearable stress that is keeping us all awake at night – it's in your power, and your failure to act will not be forgiven or forgotten should these vital cultural hubs be lost needlessly."
Boyle was among the many comics to recall how they got their first chance to perform at The Stand, which started out in Edinburgh in 1995 and launched Scotland's first dedicated club in the city three years later.
He told his 2.8 million Twitter followers: "I started out at The Stand, did an open spot as a student, found it terrifying. They came and found me in my halls of residence and made me give it another go. Be tragic if it goes."
Bridges posted: "No way this can be allowed to happen. Come on @scotgov – an absolute disaster if these clubs don't get some arts funding. Comedy is the finest art going.
"My first open mic set was @StandGlasgow over 16 years ago. Eva, Jane, Tommy etc helped me develop all the way through my career and it's still the best comedy club in the UK. Come on @scotgov @NicolaSturgeon Sort them oot!"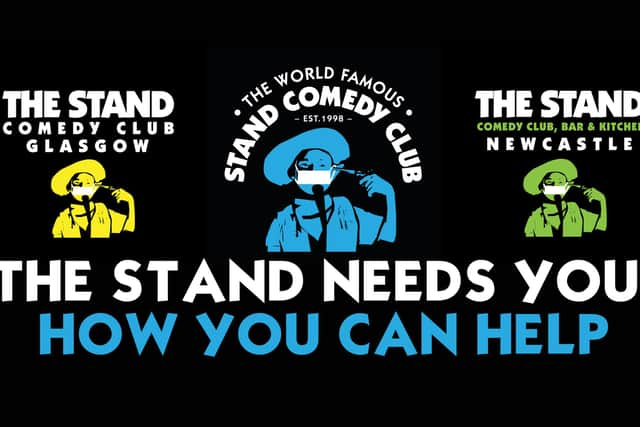 Brady said: "The Stand gave me my first gigs, first weekend, first Fringe show and Tommy himself got me my first TV gig on a Stewart Lee show. They're THE place to start comedy in Scotland so no bailout is unthinkable."
Brian Limond, who is better known as Limmy, said: "I hope The Stand survives. When I did my Fringe shows there in 2007/8, they didn't charge comedians to use their venues, unlike other places. They only took a cut of the tickets, i.e. you never lost a penny. A borderline charity. Very decent people."
Clarke said: "Seems weird being serious about comedy - but if this place goes we're screwed. So many amazing memories here. First club ever to give me a paid gig. Really hope The Stand and all the other great comedy venues get the support to survive."
Gadd said: "The Stand Comedy Club is not just a cornerstone of comedy, but a cornerstone of culture in every city they are in. It is where the best comics plied their trade."
Greig said: "Comedy is an art form. Stand up is in the DNA of Scottish culture. I hope that a way can be found to help The Stand."
The Westminster Government allocated £97m to Scotland as its share of a £1.5 billion lifeline for the arts sector at the beginning of July, however nearly £75 million has yet to be allocated north of the border.
The Scottish Government had previously announced a £10 million fund to help "performing arts venues" withstand the impact of the pandemic, although initial support has only been offered to previously publicly-funded theatres and arts centres. Other support will only be available to charities and venues either owned or run by local authorities.
The Royal Lyceum and Traverse theatres in Edinburgh, the Tramway arts centre and Tron Theatre in Glasgow, Aberdeen Performing Arts, which runs the Music Hall and His Majesty's Theatre in the city, Eden Court Theatre in Inverness and Horsecross Arts, which runs Perth Theatre and Perth Concert Hall, have all received more than half a million pounds in lifeline support to lift the threat of insolvency and bring staff back to work.
In a statement issued to The Scotsman, The Stand said: "This is a problem which is far bigger than us, and can only be solved with real support from the government and from arts funding bodies.
"However, speaking for ourselves, this is a horrible, disheartening, heart-breaking time.
"While a plan has had to be put in place for a core team to stay on and fight for the survival of our beloved venues after the job retention scheme runs out at the end of October, the vast majority of staff, many of whom have worked for the club for over a decade, in some cases nearly two, have been put on notice that we have no choice other than to make them redundant once furlough is withdrawn.
"The first formal notices went out on Thursday, with more termination letters sent to go out in the next few weeks.
"This was not an easy decision to have to make, but in reality was the only choice left available to us when we have been given no other way to continue to pay wages, and no solid offers of real help.
"News of 'discussions' between creative bodies and the government are encouraging, but without any actual action taken, are of no use to those currently facing the extremely bleak prospect of unemployment, through no fault of their own.
"It's little consolation that we have been put in this situation by circumstances completely beyond our control – we were a successful business who paid all staff a real living wage, offered their acts a fair deal, paid their taxes, and did all we could to contribute to local charities and support local businesses, all while enriching the cultural landscape of the country.
"While we appreciate from the bottom of our hearts every single penny we have received in donations from members of the public, it's not even nearly enough to keep us going indefinitely.
"And while those donations have and continue to serve as a much-needed life line for us, it shouldn't be up to ordinary people, many of whom are also facing financial difficulties and an uncertain future, to save an entire industry – one that has contributed millions in tax revenues to the very governments we are now asking for help.
"At the very least, arts funders should be matching what we've already received in donations from individuals - £145,000.
"However, in reality, we need finance and funding more in the region of £500,000 in order to survive.
"Good intentions are all very well, but the time for talking has passed and the time for urgent action began some time ago."
A message from the Editor:
Thank you for reading this story on our website. While I have your attention, I also have an important request to make of you.
The dramatic events of 2020 are having a major impact on many of our advertisers - and consequently the revenue we receive.
We are now more reliant than ever on you taking out a digital subscription to support our journalism.
By supporting us, we are able to support you in providing trusted, fact-checked content for this website.