St Magnus International Festival reviews: The Magnificent Squeeze Box | Solstice of Dark and Light
Two very different concerts were among the highlights of this year's St Magnus Festival, writes Carol Main
The Magnificent Squeeze Box, St Magnus Cathedral, Orkney *****
Solstice of Dark and Light, St Magnus Cathedral, Orkney *****
Think accordion in Scotland and the chances are it's traditional tunes that come to mind. Yet there is a whole other world of music out there for this most versatile of instruments, given even more range in shading and contrast when seven of them play together in tightly bound ensemble, as heard in St Magnus Cathedral on Midsummer Night. Whether the one voice clarity of a Bach Fantasia, arranged by lead accordionist Ryan Corbett, the tour de force that is Russian composer Vladislav Zolotaryov's Rondo Capriccioso, or the visceral edginess of the waltz from Khachaturian's Masquerade, each piece from this Royal Conservatoire of Scotland group amazed and astonished anew. Originally taken on as a lockdown project, the textures and tonalities of Mikolaj Majkusiak's Concerto Nevrotico collided and conspired in turn with even more of the wow factor.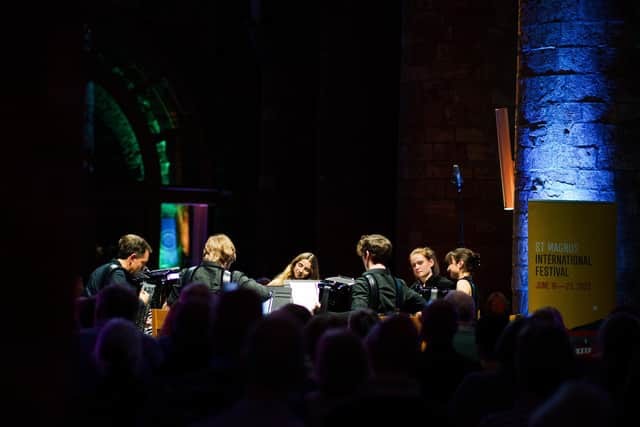 The previous evening, developing the promenade performance concept of last year's Festival, where the spatial glory of St Magnus Cathedral is brought into fresh perspective, audience members silently padded around the neon lit ancient architecture while a collage of wind, water, earth and fire came together through music, poetry and artworks in Solstice of Dark and Light.
Centre stage, metaphorically if not physically, were the singly positioned players of Hebrides Ensemble, dotted across the cathedral's pillared nave for a succession of flawlessly performed solos on violin, flute, viola, cello, harp and clarinet. The words of Orkney poets were interspersed with the music, voices heard in the local accent evocative of what makes these islands uniquely magical, while soundscape recordings of the natural world complemented the Hebrides' elementally inspired repertoire. If the audience didn't quite know what to make of it at first, they either got into the hang of being drawn to the music like moths to a flame or simply sat still, watched and listened.