Singing stars lift the lid on the dark side of the Scottish music industry
They are the million-selling artists who have been behind some of the most memorable music to emerge from Scotland.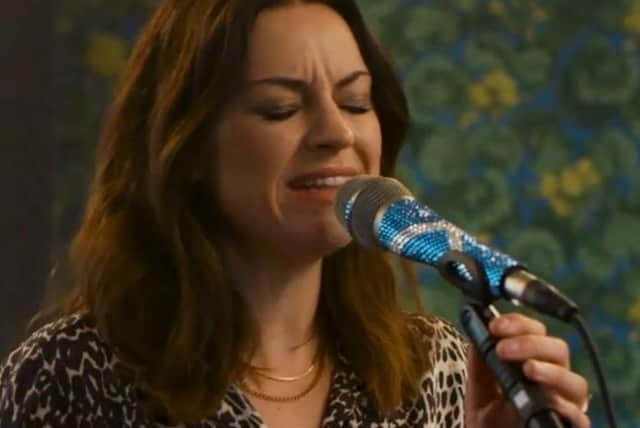 Amy Macdonald performing in a recent video for the 'Scotsman Sessions.
But now some of the nation's best-known performers are set to lift the lid on the dark side of being a high-profile woman in the industry.
KT Tunstall, Annie Lennox, Sharleen Spiteri, Lauren Mayberry, Emma Pollock and Amy Macdonald are among the stars to open up on their experiences of sexism, social media abuse, media scrutiny and overnight fame in a new BBC documentary.
The hour-long film sees them discuss the pressures they have come under to dress a certain way, coping with constantly being on tour and the modern-day domination of festivals by male performers and bands.
The BBC Alba film, God Save The Quine, which is broadcast on New Year's Day, will also see singer-songwriters Barbara Dickson, Altered Images singer Clare Grogan, rising star Be Charlotte and Deacon Blue's Lorraine McIntosh reflect on the highs and lows of the male-dominated industry.
The documentary reveals how Mayberry offered advice on how to handle online abuse to Be Charlotte after she was helped herself by Garbage star Shirley Manson.
"Mayberry says: "I don't think it's helpful for you to have a constant barrage of positivity or negativity. I don't think either of these things are good for you. I don't know if you need to hear every single opinion that every single person has about you. I don't think that we're emotionally set up to deal with that.
"When people reached out to me it really reassured me that I wasn't insane, I wasn't being over-sensitive and wasn't just blowing it out of proportion. It was really helpful.
BBC Alba's documentary God Save The Quine will be broadcast on New Year's Day.
"It's not just hurful and offensive, it's ****ing scary. I don't think a lot of people can relate to the volume of it and the specific nature of things people say."
Macdonald said: "Being able to say a new album is coming out and you can instantly reach a million people who are following you because they like you is an amazing thing. But it also gives people a direct link to you.
"There are a lot of people who just use social media to be horrible and to direct hate at people. That side of it we could improve so easily by making people register properly on these websites. There are just too many faceless accounts."Recalling her early experiences of sexism in the industry, Texas singer Spiteri says: "I remember sitting outside the office of a guy who was running Mercury Records. We were about to sign a deal. He called me 'a dodgy boiler.' I'll never forget the anger and fire that I felt hearing that.
"The lack of females on top bills has always been a bit of a joke. There's a big boys' club out there. Certain things have changed and it's moving forward. But don't be fooled by everybody saying: 'We support females so much.' It's still a boys' club, it's just better hidden nowadays."
Sharleen Spiteri shot to fame with her band Texas in the late 1980s. Picture: Julian Broad
McIntosh says: "You have to constantly fight your corner in every aspect of being in the music industry. I'm a really opinionated human being and always have been. Woman who are opinionated are not seen as opinionated. They're seen as overbearing, screeching or hen-pecking people."Macdonald says: "I actually got told once, not directly but through a radio plugger, that a radio station wasn't going to play my new song because they don't really play women. That was just allowed and that wasn't not that long ago."
Be Charlotte says: "I was in conversations about working with a live agent at one point. They said they didn't want to work with a woman, because they found that too difficult and didn't have as much of a success rate with women. It was obviously very upsetting to hear that if I was a male version of myself then that opportunity would have come about."
Grogan, who shot to fame with Altered Images in 1981, said: "Sometimes we have an all-girl line-up now, who are amazing. We arrive at venues and they say: 'Where's the drummer?' I find it extraordinary that even now they're like: 'Wow, it's an all-girl band and you really play the instruments.'"
Pollock, who made her name with the Delgados, says: "At somewhere as incredibly advanced as NASA you wouldn't be surprised to find a raft of female astronauts, mathematicians and physicists.
Lauren Mayberry performing with her band Chvrches at the Belladrum Tartan Heart Festival in the Highlands.
"Yet you walk into a venue in many, many parts of the world and you will expect that a guy comes forward to make your gig happen for you from a technical point of view and the only women you will see will be behind the bar."
The documentary reveals the pressure and even abuse from record label stylists and managers on their artists.
Tunstall said: "There was always this sort of spectre of sexualisation of you as a female musician. There's not really any rules. There's no HR in the music industry."
Mayberry: "There was a very awkward stand-off when somebody said: 'You can't just dress like you're going down the shops.'
"I think that's hopefully part of what people liked about the band and what they connected with. You could tell that it wasn't just curated bullshit. I just will not dress in a skintight white jumpsuit. I'm not going to do it."
McIntosh recalls: "I remember this guy, who was a stylist, had brought all these clothes along. I looked through them all and said: 'Nope, I don't want to wear them, I'm sorry.'"He said to me: 'You're getting the reputation of being a bit of a bitch to work for.'"
Annie Lennox has sold more than 80 million records around the world since she formed The Tourists and Eurythmics with Dave Stewart in the 1970s and 1980s.
Discussing the impact of success on her private life, Lennox says: "It's so invasive to become famous. You have no idea. I don't buy into it. In the 1990s, when the paparazzi began showing up everywhere, which I hated because I'm a really private, quiet person, I felt invaded, by men with cameras."
A message from the Editor:
Thank you for reading this article. We're more reliant on your support than ever as the shift in consumer habits brought about by Coronavirus impacts our advertisers.
If you haven't already, please consider supporting our trusted, fact-checked journalism by taking out a digital subscription.
Joy Yates
Editorial Director
KT Tunstall has been one of Scotland's most successful female artists since the turn of the century.
Want to join the conversation? Please or to comment on this article.