Simple Minds Edinburgh interview: Jim Kerr speaks ahead of Princes Street Gardens gigs
As Simple Minds prepare for two huge outdoor gigs in Edinburgh, singer Jim Kerr admits he never dreamed the band would still be around four decades after they formed.
"We had no idea the road this thing was going to take," says the affable Glaswegian. "We had no idea if it would last more than 40 weeks, never mind 40 years. We knew nothing."
As part of Edinburgh Summer Sessions, the legendary Scottish band will play two shows in Princes Street Gardens this weekend.
On Friday, Kerr and co make a welcome return to the city they've played many times in the past, while the following evening sees them play a special second show, with all profits going to UNICEF For Children In Ukraine.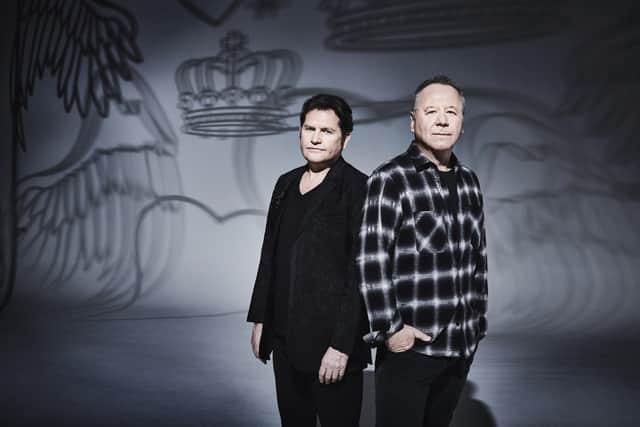 Against the backdrop of Edinburgh Castle, Saturday's gig sees the band play their classic New Gold Dream album in full, along with a selection of their greatest hits.
The two gigs will be staged a decade after Simple Minds headlined Edinburgh's Hogmanay Concert in the Gardens in the same venue.
"We can think of no better way to bring our upcoming UK/European Tour to a climax than performing not one, but two shows at Princes Street Gardens," says Kerr.
Earlier this year, the band he formed with childhood friend, guitarist Charlie Burchill, released a new single to mark the anniversary of their first ever show – at Glasgow's Satellite City on January 17, 1978.
Simple Minds best-known songs – such as Don't You (Forget About Me) and Alive and Kicking – sound miles away from the band's rough and tumble origins on the Glaswegian pub and club circuit in the late 70s.
Since that humble beginning – after which they were steered to world domination by Edinburgh music industry legend Bruce Findlay – Simple Minds went on to sell some 60 million records worldwide and score five number one albums in the UK.
The band has featured an ever-changing roll call of members, though Kerr and Burchill have maintained its core.
"The first impression was gratitude," says Kerr, when asked how he feels about the last four decades.
"How lucky… How many people get to live their dream? We're so fortunate to have this passion to begin with.
"A lot of people, they either can't decide what their passion is or they never really find a passion – or they do find it but somehow they don't get to make a life out of it. And we feel very fortunate to have had the opportunity that we've had.
"We also worked really, really hard. We also sacrificed a lot. At the end of the day, if you can make your life out of something that otherwise you would have done for free… What a gift."
Nowadays, Kerr, 63, spends much of his time in the Sicilian hilltop town of Taormina, where he owns a boutique hotel.
He has two adult children – Yasmin, from his marriage to Chrissie Hynde of the Pretenders; and James, from his marriage to actress and model Patsy Kensit.
Asked about the secret to Simple Minds' longevity, Kerr says: "There's a million factors. I always say luck and then well-meaning people around me will say, 'It's not just luck – you work hard.' But it is luck. Well, at least luck is a huge thing.
"This thing we do, it's not for everyone. You have got to be born the type. Because I've met a lot of people in music who don't like being on tour, who don't like being away from home, or they don't like being in public."
At the heart of Simple Minds is the relationship between Kerr and Burchill – two rock and roll survivors who have never allowed their friendship to sour or turn purely professional.
Kerr is candid about their closeness.
"I have been saying a lot how lucky we feel. But I also feel lucky because who else gets a chance to hang out with their best pal every day? Not every day, but almost every day!
"That's the way it has worked out for us. It's been a remarkable thing, the friendship and what has come from it."
Get tickets for Simple Minds' Edinburgh Summer Sessions gigs here
Comments
 0 comments
Want to join the conversation? Please or to comment on this article.