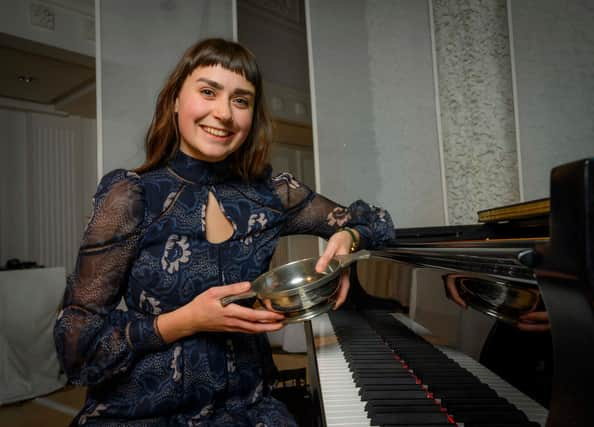 Glasgow-based Amy Laurenson was crowned BBC Radio Scotland Young Traditional Musician of the Year on the final night of the city's Celtic Connections music festival.
She had moved to the city to study classical piano at the Royal Conservatoire of Scotland, but decided to switch to traditional music after becoming immersed in the city's thriving scene.
The 23-year-old had been working recently in the music and arts venue Saint Luke's, in Glasgow's east end, but gave up her job during Celtic Connections while she was preparing to compete in the final of the long-running competition.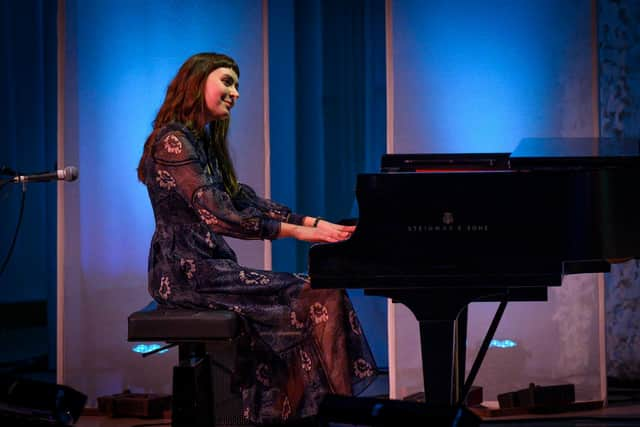 Laurenson, who started learning the piano at the age of 7, first became involved in traditional music while growing up in Shetland when she started lessons with celebrated trad pianist Violet Tulloch when she was 16.
Laurenson said: "I started getting into the trad world when I was at home but when I came down to Glasgow it was for classical music at first.
"I wasn't really enjoying the course I was doing and the trad scene in Glasgow was a whole new world.
"I found myself drawn into the trad course, the stars aligned and I ended up becoming a full-time traddie.
"There is so much innovation and variety in the trad scene. You can go to a Scandinavian session one night and a bluegrass session the next. There is a bit of everything.
"I'm really drawn to Scandinavian music, which I think is because of the links with Shetland. I've started playing with Swedish and Norwegian musicians, which has really grown my interest.
"This has been the first proper post-Covid Celtic Connections and we have all had an amazing couple of weeks.
"I have had a pub job to keep my tiding over, but I actually handed in my notice last week to go for it as a full-time musician. I really want to put together a solo album this year and then get gitting next year with it. I've worked in hospitality since I was 16 so it's going to be a big change in my life."Singer and guitarist Aidan Moodie, from Orkney, piper Ailis Sutherland, from Kirriemuir, in Angus, Gaelic singer Mairi McGillivray, from Islay, and two Glasgow-based musicians, fiddler Madelaine Stewart and accordionist Sam Mabbett also competed in the final, which was broadcast live on BBC Radio Scotland and BBC Alba.
The competition, which was launched in 2000, is open is to musicians aged between 16 and 27 who have been living in Scotland for at least a year before entries open in the summer. The prize includes a recording session with BBC Scotland and the chance to perform at the annual Scots Trad Music Awards.
Winning the award has been a launchpad for some of Scotland's best-known traditional music stars, including Hannah Rarity, Claire Hastings, Robyn Stapleton, Catriona Watt, Emily Smith and James Graham, and musicians Mohsen Amini, Paddy Callaghan, Anna Massie and Stuart Cassells.
Laurenson won the competition despite suffering problems with nerves in the final.
She said: "It was really nerve-wracking – there was a point where it was nearly on the brink of falling apart. When I get nervous I tend to get quite shaky involuntarily. It happens in high-pressure situations. I was fine until I got on the stage and it started. It's super-inconvenient for musicians when you need that control, but you just have to get on with it.
"I've followed the competition for a couple of years and some of my closest friends were in it last year. Hearing their experiences really made me want to go for it. It's just insane for me to win it now."
Meanwhile organisers of Celtic Connections said the 30th edition of the event had attracted an overall attendance of more than 110,000 across its 18 days.
Around 10,000 music fans flocked to free events as part of a programme which included more than 300 shows featuring around 1200 musicians taking to stages at 25 venues across the city.
Creative producer Donald Shaw said: "It has been incredible to celebrate the 30th edition of Celtic Connections and showcase folk, roots and world music, bringing communities from across the globe together in Glasgow.
"This year's festival was a huge success and the calibre of the artists was incredible.
"We are honoured to have brought Europe's largest winter music festival to audiences from all over the world for the last 30 years.
"This year, we paid homage to all the musicians and artists who have contributed to Celtic Connections over the past three decades.
"We can't wait to return in 2024 and once again bring music from around the world to the heart of Glasgow."
Scottish culture secretary Angus Robertson added: "I want to extend a massive thank you to the organisers for what was a fantastic celebration of Celtic music, promoting traditional and contemporary Scottish culture.
"The wide range of performers from around the world really made this 30th festival one to remember."