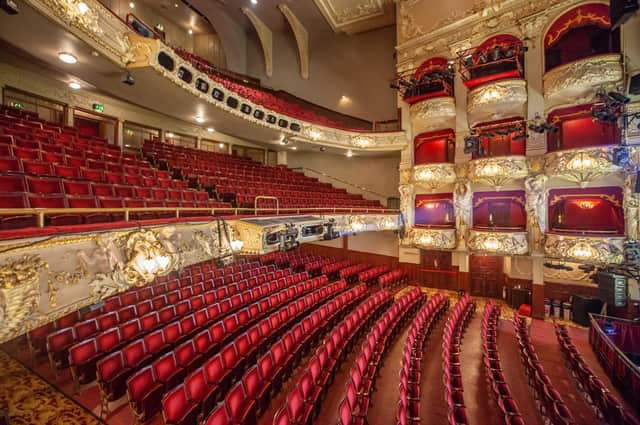 The Citizens and Tron in Glasgow, Eden Court in Inverness, Dundee Rep, the Festival, King's, Royal Lyceum and Traverse theatres in Edinburgh, Pitlochry Festival Theatre and the Macrobert Arts Centre in Stirling are among the venues urging the Scottish Government to "urgently review" rules put in place for the reopening of the entertainment sector on Monday.
A new alliance of venues has warned there will be "very little cultural ecology left in Scotland" unless there is a rethink over an insistence two metre social distancing is imposed on audiences for the foreseeable future.
The Scottish Theatre Producing Consortium – which also included His Majesty's Theatre, The Music Hall and The Lemon Tree in Aberdeen and Perth Concert Hall and Perth Theatre – has told the Scottish Government it will need to find new emergency funding for venues if it "genuinely feels the sector needs to remain closed."
A survey by the Federation of Scottish Theatre of its 120 members found that 96 per cent of them will have to keep their doors closed under the current guidelines, which insist on two metre social distancing is enforced on audiences.
The two metre rule, which is due to remain in place indefinitely under Scotland's current route map out of restrictions, is said to be having a "significantly negative impact on the ability for venues to plan."
They say they are having to grapple with guidelines far more restrictive than the hospitality sector, film and TV production in Scotland, and the live entertainment industry in England, where venues will be able to reopen at half their normal capacity from Monday.
Bars and restaurants across Scotland were allowed to reopen with one metre social distancing in place last July after the Scottish Government was told 85 per cent of hospitality businesses would be unable to trade viably under the two metre rule.
Under the current guidelines, Scottish venues will be able to bring back audiences of up to 100 indoors from Monday and 400 indoors from the end of June, but must enforce two metre distancing.
However figures published by the venues alliance said the new rules would mean the Festival Theatre in Edinburgh would only be able to operate at 21 per cent of its normal capacity, with His Majesty's at 17 per cent, Perth Concert Hall at 16 per cent, Dundee Rep at 18 per cent, the Macrobert at 19 per cent, and the Tron at six per cent.
Macrobert artistic director Julie Ellen said: "Live performance plays such a vital role in so many people's lives and those who come to our theatres are bewildered by the tighter limitations on the naturally controlled environment of theatres and cinemas.
"The uncertainty of when capacity restrictions will change makes it impossible to restart the making and promotion of live performance. We risk financial loss, potential job losses and huge disappointment for the people of Scotland."
Fiona Gibson, chief executive of Capital Theatres, which runs the King's and Festival theatres, said: "The performing arts sector has a three to six month lead time for producing new work for our stages and hence needs more notice, and indeed clarity, on when and how we can rely on a non-socially distanced model of reopening.
"Without this critical route map and additional financial support to allow us to manage the risk of developing the shows, there will be very little cultural ecology left in Scotland."
Alex McGowan, chief executive of the Citizens Theatre, said: "We recognise that, with lockdown measures easing, some form of social distancing will be required in the short-term, but the current proposals of two-metre distancing for theatre audiences are not financially viable."
James Mackenzie-Blackman, chief executive of Eden Court, said: "We urge the Scottish Government to recognise that the current guidance on social distancing makes a meaningful re-start of the sector almost impossible and to engage fully with the sector to address this."
Liam Sinclair, joint chief executive of Dundee Rep and Scottish Dance Theatre, said: "It's now time for audiences to return to our auditorium. We're ready for their return, and importantly are entirely confident we can do it safely, the management of risk being something our sector does day in, day out."
A spokeswoman for the Scottish Government said: "A new administration is in the process of being formed and the First Minister has been clear the focus will be on recovery from all aspects of the pandemic.
"The First Minister will provide an update on the latest steps out of lockdown on Tuesday."
Asked at the weekend when venues would able to return to any kind of normality, Scotland's national clinical director Jason Leitch told Radio Scotland: "We know how this virus transmits.
"It transmits when people meet, whether in a house, a nightclub, a church, a school, wherever that happens to be.
"It transmits when you have incidence, when you have positive cases and people meet.
"However, if you are going to design an environment in which it would find it easier to transmit you would make that indoors, unventilated, you would make people not wear face coverings and you would make people not distanced.
"Everything you do to try to make it safe is about reducing the risk of that transmission, but it all depends on the baseline incidence in society. As a country, we are working towards lower incidence.
"I absolutely want nightclubs, live entertainment and all of that back as quick as we possibly can, but the last thing we want is an outbreak and then we have to go backwards and we are back where we started.
"We need society to get the incidence down and then those things can come back. I hope that is not as far away as people dread."
A message from the Editor:
Thank you for reading this article. We're more reliant on your support than ever as the shift in consumer habits brought about by coronavirus impacts our advertisers.
If you haven't already, please consider supporting our trusted, fact-checked journalism by taking out a digital subscription.
Neil McIntosh
Editor