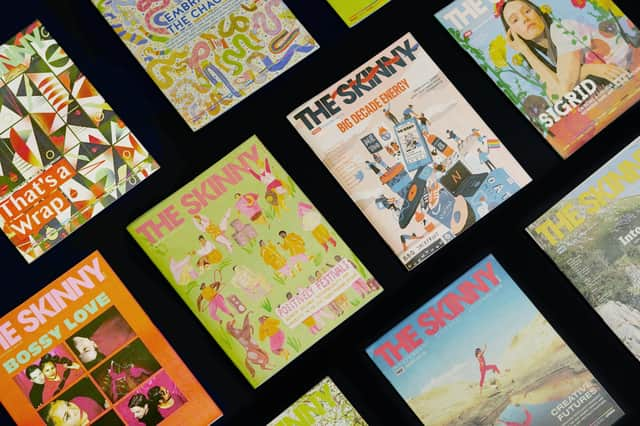 Edinburgh-based arts magazine The Skinny has suspended print production
The Skinny, which is produced in Edinburgh and has a circulation of around 30,000, will continue as an online publication with a reduced staff.
The April edition of the free magazine, which was completed this week, will be the last until the print advertising market recovers.
It will be available from various supermarkets in Edinburgh, Glasgow, and Dundee.
The Skinny was launched in 2005 and specialises in coverage of music, drama, and visual arts in Scotland.
"It's with heavy hearts we have been forced to press pause on the print edition of The Skinny after 175 issues and 15 years of uninterrupted monthly publication," editor Rosamund West told The Scotsman.
"As an arts publication which is entirely reliant on cultural sector advertising revenue to sustain itself, the events of the past few weeks have left us suddenly finding ourselves unable to cover our core costs. We've reached out to funders and governmental bodies for assistance, but have received no response.
"Therefore, the only course of action open to us is to temporarily cease print, furlough the majority of our staff and maintain a pared-down digital presence for the coming months.
"Our key priorities are supporting our team and coming out the other side ready to resume publication so we can continue serving the Scottish cultural community that is at the heart of everything we do.
"In the meantime, we'll be working hard to maintain essential coverage online at theskinny.co.uk and across our various social platforms."