Scottish Album of the Year: Edinburgh trio Young Fathers win coveted music crown for third time
Ground-breaking Edinburgh trio honoured for 'Heavy Heavy'
Ground-breaking Edinburgh outfit Young Fathers have been crowned winners of the coveted Scottish Album of the Year Award for a third time.
The trailblazing trio, whose mix of soul, hip-hop, rap and post-punk has seen them become one of Scotland's most acclaimed live acts, were honoured at the climax of the "SAY Award" ceremony at the Albert Halls in Stirling on Thursday night.
Their latest album, Heavy Heavy, marked a comeback for the band after a five-year hiatus since previous release Cocoa Sugar.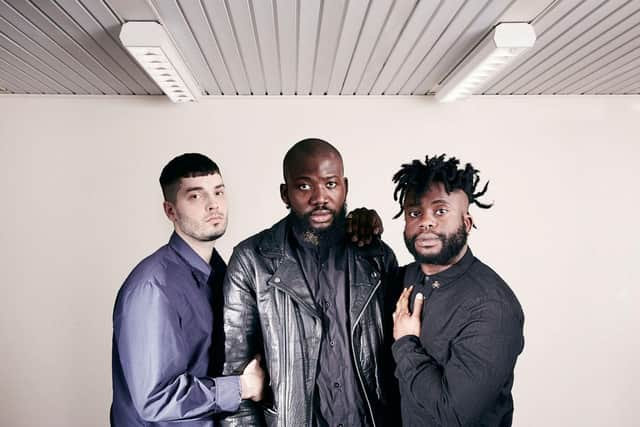 The band, who won acclaim for their performance at the Glastonbury Festival this year, had said they were "humbled" to be nominated for the £20,000 prize again.
They have just embarked on a UK tour, which included two gigs at Glasgow's Barrowland Ballroom this week and hometown shows at the Usher Hall in Edinburgh next week.
Young Fathers were formed in 2008 by Alloysious Massaquoi, Kayus Bankole and Graham 'G' Hastings after they met at an under-16s hip night in Edinburgh.
They signed their first record deal four years after starting to write and record together using an old old karaoke machine plugged into a cassette recorder.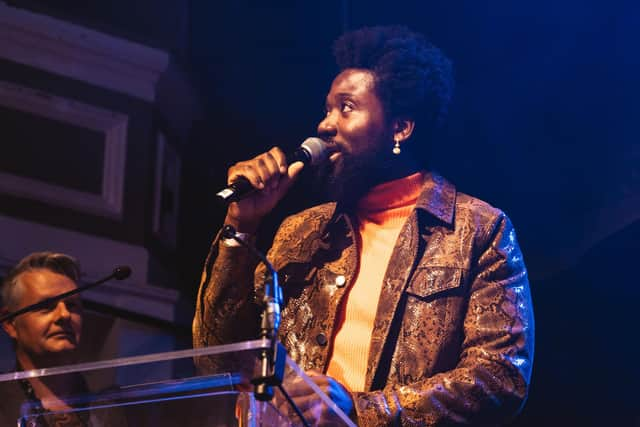 The group won the Mercury Prize in 2014, the same year they also won the SAY Award for the first time and were honoured with the Scottish title again four years later. They were featured extensively on the soundtrack of Danny Boyle's T2 Trainspotting film.
Young Fathers were named winners ahead of shortlisted contenders Andrew Wasylyk, Becky Sikasa, Bemz, Brìghde Chaimbeul, Brooke Combe, Cloth, Hamish Hawk, Joesef and Paolo Nutini.
Massoquoi, who described Young Fathers' win as "radge," suggested the band had effectively "reformed" after the Covid pandemic to make the new album.
He said: "The album is called 'Heavy Heavy' for a reason, it was just the trials and tribulations of everybody.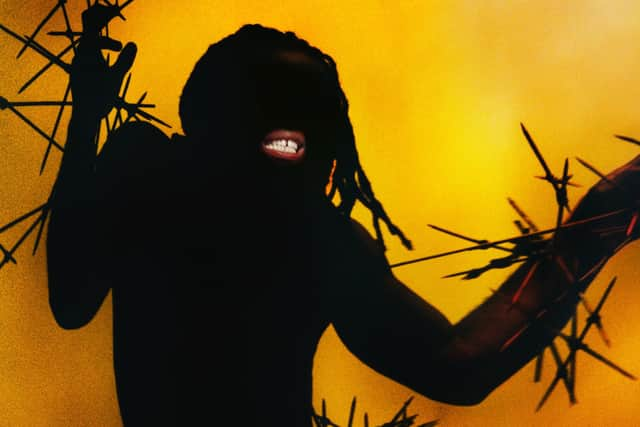 "It was one of those things where we sort of had to start from scratch – it had been five years since we had put something out with Cocoa Sugar – for us to get back together and get excited again with each other, and all the ideas that everybody else brings.
"This is just topping off a great year for the guys and I. We've just done two shows at the Barras. Honestly, I think the Scottish crowd probably is the best - it's always nice to come to these places, because it feels very homely.
"Watching some of the young folk coming up here is inspiring. I don't think the guys and I will ever lose that - we look at stuff right across the board. It doesn't matter where it is from the past or present."
The ceremony, organised by the Scottish Music Industry Association (SMIA), saw Nutini recognised with the Modern Scottish Classic Album Award for These Streets, while Edinburgh duo No Windows – multi-instrumentalist Morgan Morris and singer Verity Slangen – won the Sound of Young Scotland Award, which recognises up-and-coming talent.
Nutini, who missed the awards ceremony as he was in the United States, said: "The news about 'These Streets' was a surprise to say the least – mental news that I never expected for a minute.
"All I can say is thank you so much to those who the music means something and for listening to the songs."
No Windows said: "Scotland right now is such an exciting time and place for music and it feels like a complete honour to be a part of that and be part of such an incredible group of musicians."
Robert Kilpatrick, chief executive and creative director of the SMIA, said: "In 2018, Young Fathers made history by becoming the first artist to win the Scottish Album of the Year Award twice.
"As the band continued on a meteoric rise, defying definitions with their sound and bringing a level of energy and power that's uniquely theirs, they have claimed Scotland's national music prize for the third time with their strongest and most mesmerising body of work to date.
"Their win signifies the importance of recognising and investing in outstanding Scottish talent, and through the support of the SAY Award (and many other well-deserved accolades), Young Fathers continue to capture the magic and bring it into the lives of music fans worldwide.
"Their win further cements their world-class status, and through doing so, Scotland's global reputation as a country overflowing with outstanding and idiosyncratic creative talent."
Alan Morrison, head of music at Creative Scotland, who fund the awards, said: "Young Fathers' stunning SAY Award hat-trick crowns a magnificent year that saw the Edinburgh trio reach the UK top 10 album chart for the first time and deliver the summer's most talked-about set at Glastonbury.
"One of the foundation stones of this success was Creative Scotland's funding of Heavy Heavy's recording costs, proof that public funding keeps artistic excellence and cultural diversity at the forefront of Scotland's boundless music scene."
Comments
 0 comments
Want to join the conversation? Please or to comment on this article.