The fragment of material discovered during forestry work in Glen Affric, which experts say has shed new light on the "origin story" of tartan, could be more than 500 years old.
Historians believe it is the oldest surviving "true tartan" – patterned cloth featuring dye of different colours and stripes of different sizes.
They have hailed the "remarkable discovery" of the only surviving piece of tartan from this period of Scottish history, which is thought to have survived for so long because it was buried in peat.
The "Glen Affric tartan" will be going on public display for the first time on 1 April as part of a major exhibition at V&A Dundee exploring the history and evolution of Scotland's national cloth.
Dye analysis and radiocarbon testing were carried out on the fragile piece of tartan, which measures around 55cm by 43cm, and had traces of the colours green, brown, red and yellow.
The results of the work, which also involved the "washing out" of peat staining, are said to have dated the age of the material to between 1500 and 1600 AD, during the reign of King James V, Mary Queen of Scots or King James VI.
There is a written record of tartan being bought for King James III in 1471, while the wearing of a tartan kilt is believed to date back to the late 16th century.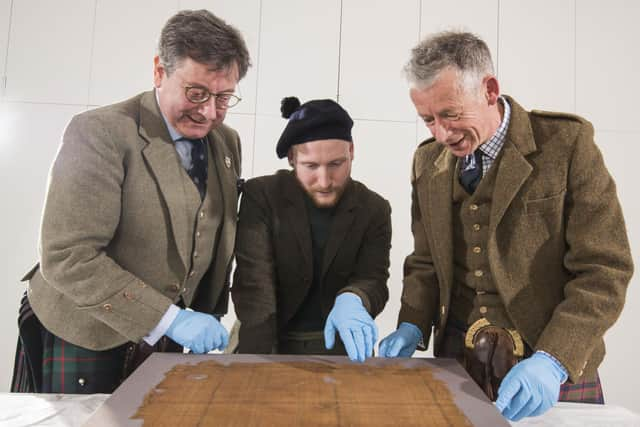 Although Glen Affric was a key territory for the Clan Chisholm, Scotland's foremost tartan historian believes the piece of green, brown, red and yellow-coloured material was part of a home-made "working garment" rather than a piece of clothing worn by someone of high status.
The piece will be the oldest of more than 300 objects in V&A Dundee's show, which opens on 1 April.
The exhibition will also feature a fragment of tartan worn by Bonnie Prince Charlie, a pair of tartan trousers hand-made by a Bay City Rollers fan, paintings of the late rugby icon Doddie Weir and actor Alan Cumming and a helmet worn by motor racing legend Sir Jackie Stewart, as well as fashion pieces by the likes of Chanel, Dior, Alexander McQueen and Vivienne Westwood.
The Glen Affric tartan had been held in storage for decades in the archives of the Perthshire-based Scottish Tartans Authority, which promotes, protects and preserves the origins, history and development of tartans and Highland dress.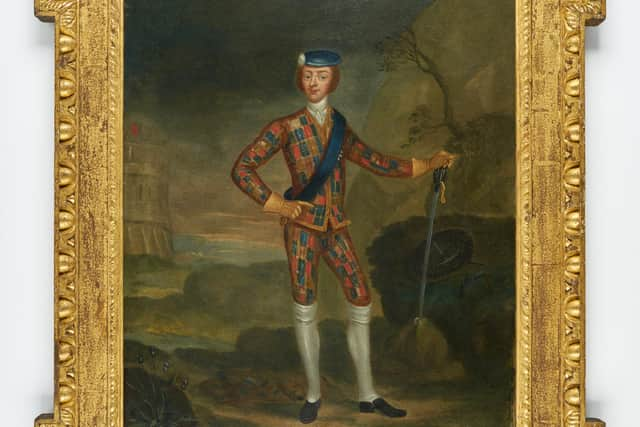 The research project was instigated by the STA after curators working on the V&A Dundee exhibition approached the charity over potential loans of early "proto tartans".
V&A Dundee curator James Wylie said: "This really all came about during the development of the exhibition. We wanted to get a really old example of a woven checked textile to put on display.
"We were looking into whether there were any 'proto-tartans' – dating back before our modern understanding of tartan in the 18th century – which were either held in collections around Scotland or the Scottish Tartans Authority's own archive, and were really looking for any textiles.
"The word tartan only really came into the lexicon in Scotland in the 1500s. This was a time of the Renaissance, when there were a lot of connections between Scotland and France. The word tartan actually derives from a French word which means to weave together two different types of cloth or yarn.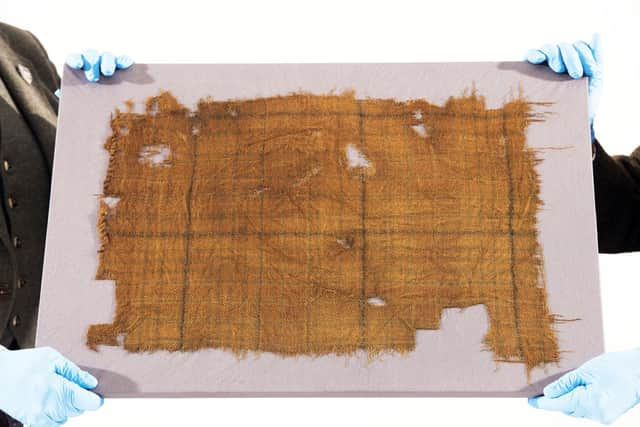 "This particular fragment was handed in to the Scottish Tartans Authority by people who found it when they were peat cutting. It was a really tatty piece of textile which had pretty much been packed away since the 1980s.
"I was able to view all of the objects that were coming on loan from them at the Gordon Highlanders Museum in Aberdeen. When I saw this piece I thought: 'There is maybe something to this.' The thread was quite irregular and you could tell it was home-spun. There was a big mystery hanging over the age of it.
"When Peter told me how old it actually is I was absolutely astounded."
The fragment was examined by experts at the National Museum of Scotland in Edinburgh and the Scottish Universities Environmental Research Centre's specialist radiocarbon laboratory in East Kilbride.
Peter MacDonald, the STA's head of research and collections, said: "We've been working quite closely with V&A Dundee to source some older pieces of tartan for the exhibition.
"I felt it was a really good idea for us to do some research on this fragment.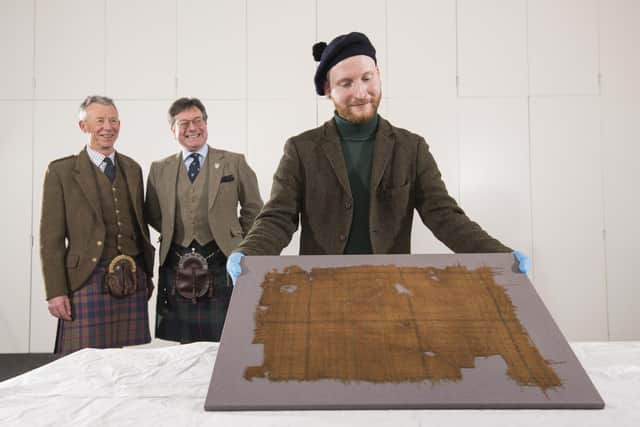 "Although it's been sitting in our archives it hasn't been widely-known about and hasn't been on public display before. Hardly anyone has seen this before.
"I always felt it was very early tartan, although I had absolutely no idea how early.
"Having worked with a lot of 18th century textiles, it looked older than those, and was also very basic and rustic. My gut feeling was that it was pre-1700.
"I persuaded our trustees to spend some of our limited funds on the research, but we're absolutely delighted with the results. There is nothing else like this that has survived any longer."
"Although we can theorise about the Glen Affric tartan, it's important that we don't construct history around it.
"Although Clan Chisholm controlled that area, we cannot attribute the tartan to them as we don't know who owned it."
John McLeish, chair of the STA, said: "The Glen Affric tartan is clearly a piece of national and historical significance.
"It is likely to date back to the reign of James V, Mary Queen of Scots, or James VI/I.
"There's no other known surviving piece of tartan from this period. It's a remarkable discovery and deserves national attention and preservation.
"It also deserves to be seen and we're delighted that it's to be included in the Tartan exhibition."