Scotland to get new marine murder mystery TV series focusing on Norwegian detective
Scotland is to get a new murder mystery TV series focusing on cases linked to the murky waters of rivers, lochs and canals.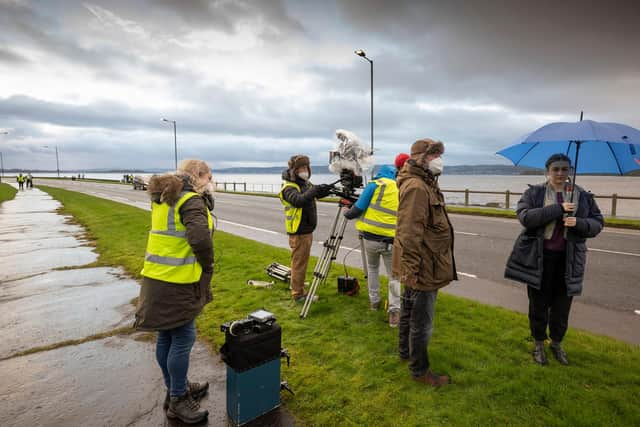 Rising Scottish screen star Silvie Furneaux, who plays Morgan, the daughter of detective inspector Annika Strandhed, on location on location in Helensburgh. Picture: Graeme Hunter
Nicola Walker, star of Spooks, Touching Evil, The Split and Last Tango in Halifax, will play the maverick Norwegian detective inspector Annika Strandhed in a reprisal of her role from the acclaimed Radio 4 series.
The six-part series will be set in and around Glasgow and will see Walker's character head up a new marine homicide unit.
Locations lined up include Glasgow itself, as well as multiple locations in Helensburgh and Rhu, in Argyll, and the Beacon Arts Centre, in Greenock, which will stand in for the investigation unit's base.
Walker's character and her daughter Morgan, who will be played by rising Edinburgh screen star Silvie Furneaux, live on the banks of Loch Lomond.
The show, which has been commissioned for UKTV's crime channel Alibi, will see Walker's character confide her observations on each case, and her personal and family life, with the audience.
Annika is being produced by Glasgow-based Black Camel Pictures, the company behind the film musicals Sunshine on Leith and Anna and the Apocalypse, and a coming Highlands-set romantic comedy focusing on a rivalry between two competitors in an opera competition.
Arabella Page Croft, co-founder of Black Camel Pictures, said: "Nicola Walker is already adored by audiences in Nick Walker's hit radio series, so it's a simply wonderful opportunity to bring this engaging, energetic show to a much wider audience.
Nicola Walker will reprise her role as Detective Inspector Annika Strandhed in the forthcoming TV adaptation of the Radio 4 drama series.
"Amazing Ed Smith, our location manager, and his phenomenal supporting team have worked tirelessly throughout Covid and Glasgow's lockdown for the last three months to set us up so well.
"I know how hard the challenges have been to secure locations so we are really grateful to Ed and all the local councils who have gone beyond the call of duty to help our production.
"The Beacon Arts Centre will become our sophisticated new base and home for the marine homicide unit, with huge, beautiful glass windows directly onto the Clyde Estuary.
"We can't wait to shoot in there and to try to capture the action of the show and the boats going up and down the waterways.
Executive producers Arabella Page-Croft and Kieran Parker are filming Annika on location in Glasgow, Helensburgh, Rhu, Loch Lomond and Greenock.
"Annika's quirky house is perfect for her wacky character and her daughter, nestled on the banks of Loch Lomond. We knew we'd just fallen on the perfect home when we discovered it.
"It's been terrific setting up a lot of the first few episodes in Helensburgh and Rhu.
"Our unit base is in the cricket and rugby club, but we are shooting all over the area. Victoria Halls offered us space to change into a school play, a gymnastics sports club and a rural police station, and Hermitage Park has been repurposed as a morgue."
Walker said: "Annika navigates the world, her work and her home life in fabulously unique and unusual ways and I can't wait to see her come to life."
The new drama series will be set in and around Glasgow.
UKTV drama commissioner Phillippa Collie Cousins said: "Our new detective series is a breath of fresh air - a whip-smart detective, great cases and the glorious Scottish scenery.
"Nicola Walker has been integral in helping us develop her character, creating a maverick female detective who not only has Norwegian ancestry, but is dryly funny, a chaotic parent and a fish out of water."
A message from the Editor:
Thank you for reading this article. We're more reliant on your support than ever as the shift in consumer habits brought about by coronavirus impacts our advertisers.
If you haven't already, please consider supporting our trusted, fact-checked journalism by taking out a digital subscription.
Joy Yates
Editorial Director
Want to join the conversation? Please or to comment on this article.