The title of Phil Bancroft's new quartet album, Degrees of Freedom, doubtless suggests the creatively muscular jazz it has to offer, but it can also be construed as the saxophonist's determined bid to unfetter himself from the shackles of corporate streaming platforms by launching his own bespoke, artist-led web platform, Myriad Streams.
Bancroft describes Myriad Streams, developed in partnership with Paul Egan of Digital Dexterity web design in Glasgow, as "an antidote to Spotify – a human rather than industrial-scale presentation of culture, providing a calm place for listeners to get to know one artist without 100,000 other artists also clamouring for their attention".
Degrees of Freedom, released digitally on 5 May, sees him in the seasoned creative company of pianist Paul Harrison, bassist Aidan O'Donnell and drummer Stu Ritchie. It will provide the new website's "front of house" playlist for the first three weeks, but is also downloadable from Bandcamp. And it kicks off a major series of album releases and re-issues on the Myriad Streams platform, including previous Bancroft recordings and collaborations to which he contributed. These include his widely acclaimed Headlong album of 2004 with his International Quartet, a jazz-orchestral fusion, The Salmon's Tail, by Kevin Murray, a newly recorded trio album with guitarist Graeme Steven and Indian tabla player Gyan Singh, as well as an improvised solo saxophone suite and Live at the Blue Lamp, featuring his standards trio with brother Tom Bancroft on drums and bassist Mario Caribe.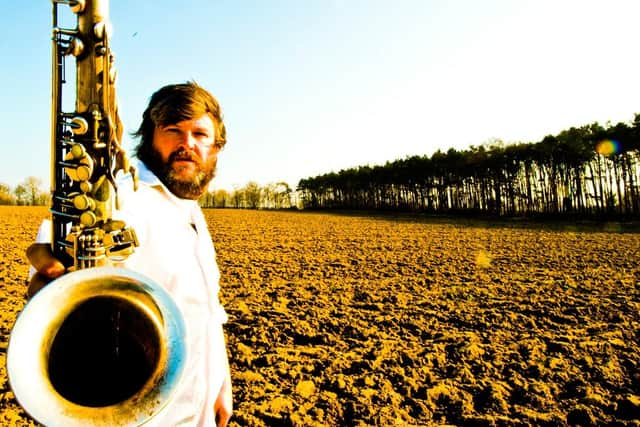 Also on the website will be recordings by past collaborators, such as the widely acclaimed Trio AAB (with Tom Bancroft and guitarist Kevin Mackenzie), fiddler Aidan O'Rourke of Lau and the folk jazz fusion of both Colin Steele's Stramash and the seminal John Rae's Celtic Feet.
On release, each of Phil's albums will feature on the platform's "front-of-house" playlist. Bancroft likens it to a magazine, changing every few weeks, while the full range of albums will be accessible within the site for subscribers and downloadable on Bandcamp. As the website develops, he hopes to explore non-monetary transactions such as credits for successful sharing, redeemable against subscriptions or downloads.
From a musician's point of view – and particularly from the point of view of what Bancroft describes as a "non-commercial artist" such as himself – the huge changes in the music industry over the past few years present particular challenges. "In terms of the economy of being a musician, it's all gone bit nuts," he says. "Spotify provides a huge amount of music free and it's very convenient and it feels like the artists have become these specks, tiny grains of sand on the endless beach of music while the power resides in the owners of these distribution networks.
"The more these things become monetised and start pushing things with algorithms it becomes an industrial scale of cultural presentation. The commodification behind it is quite alienating and disturbing.
"I'm interested in the artist becoming more in control, rebalancing things, and if we can use the technology to produce a direct relationships between art and audiences – which may be small but all round the world – we free ourselves from having to go through the mainstream gatekeepers."
With brother Tom, Bancroft has been a significant figure within Scottish jazz for more than three decades. As well as devising new ways of streaming music, he runs an education business, ABC Creative Music, and assists his wife with her family farm in Midlothian. He's also anxious to get back into gigging, particularly on the back of the new quartet album which sees his restlessly questing tenor sax playing mixing with luminous piano interludes from Harrison and measured double bass conversations from O'Donnell, as in the daftly named but eminently listenable Larry De Luxe and the Temple of Zoom. Bancroft's penchant for eccentric titles also manifests itself in Is That You Gladys in the Conservatory?, belying some limpid ballad playing by Harrison and himself. Clearly, you can't take a degree of freedom too far.