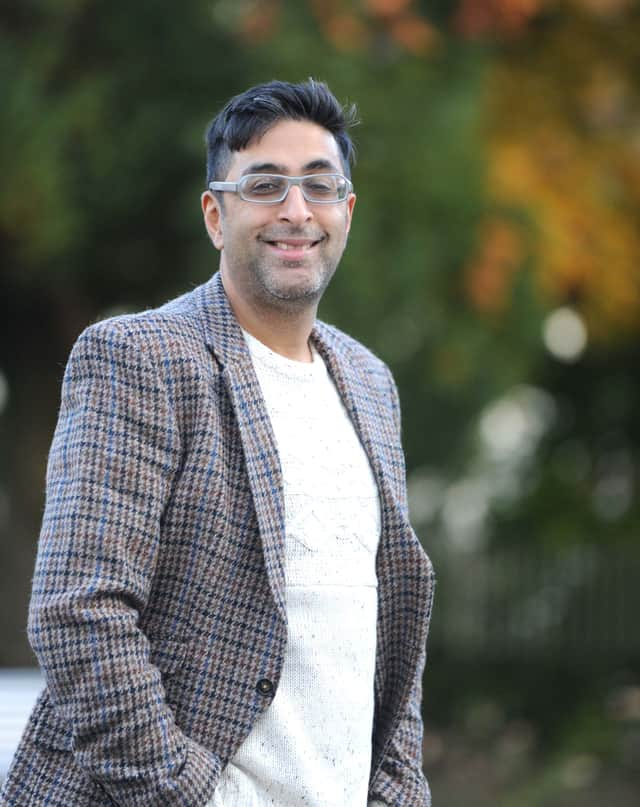 Known for his role as Navid in popular comedy Still Game, Sanjeev Kohli wasn't always destined for the screen.
Born in London, Sanjeev, his brothers and his parents moved to Scotland when he was three years old. Sanjeev attended St Aloysius school in Glasgow before starting two careers – first studying medicine at Glasgow University before switching to maths, in which he gained a First. Having started a maths pHd at London University, he returned to Glasgow in his twenties after taking a gap year to travel.
He was just about to apply himself to a career in accountancy when he got a call from an old university friend who was putting together a radio programme for the BBC called Ghetto Blaster. She was looking for a variety of contributors and this was Sanjeev's first opportunity to write for radio.
It was also about this time that he began working on the idea for the sitcom Fags, Mags and Bags, based around an Asian actress who works part-time in her father's shop, which aired on Radio 4 with the first series winning a Sony Radio Award. The sixth series started in April 2016 after a three year hiatus.
As well as Fags, Mags and Bags, Sanjeev has starred in Meet the Magoons for Channel 4, co-written by his brother Hardeep, as Surjit Magoon and appeared in several episodes of the BBC comedy series Look Around You as Synthesiser Patel.
He also wrote for for Goodness Gracious Me, The Big Breakfast and Chewin' the Fat, which was also written by the main Still Game co-stars, Ford Kiernan and Greg Hemphill.
Speaking of writing, Sanjeev told the Scotsman: "I'd love to write a book," he says, "and I do have a good idea for one. But I wonder if the idea is good enough to sustain the story. People always ask me how I can write a big storyline into half-hour segments, but I can't understand how some people can make a story 300 pages long," he says.
Sanjeev has recently added Glasgow-based soap opera River City to his CV as AJ Jandhu but it is his portrayal of corner shop owner Navid in Still Game that has won him recognition and fame.
The much-loved character appeared on Scottish screens in 2002, with the return of the comedy due this year. Still Game also enjoyed popularity as a live show in 2014 and returned to the stage for a second time in February this year.