The National Trust for Scotland has been forced to apologise for suggesting it was planning to honour the Reverend William Struthers in a 500-year-old building near Edinburgh Castle thanks to his involvement in 17th century witch trials.
Experts say Struthers, minister at St Giles' Cathedral on the Royal Mile, who lived in Gladstone's Land, was implicated in the death of at least one woman and the torture of two others.
Campaigners fighting to secure an official apology and pardon for thousands of women persecuted between 1563 and 1736 have asked the charity to rethink its plans for the historic visitor attraction, which is currently undergoing a £1.4 millon makeover.
The Witches of Scotland campaign, which has secured more than 3400 signatures on an official petition to the Scottish Parliament, has accused the trust of being "extraordinarily insensitive" in its plans for Gladstone's Land, which was once one
NTS has instead been urged to find a woman to honour instead of Struthers, who it described as "the 17th century equivalent of a multi-millionaire."
The magazine states: "Famous for his rousing sermons, he published books with fearsome-sounding titles such as A Resolution For Death and was involved in the trial of women suspect of witchcraft – among them Marion Mure of Leith, who was executed in 1632.
"The new William Struthers holiday apartment, named after him, includes playful references to the life and times of this cantankerous figure."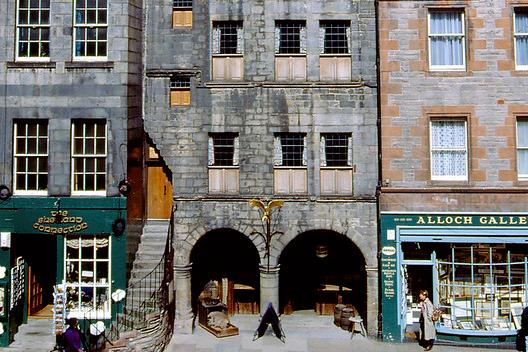 Gladstone's Land, on Edinburgh's Royal Mile, dates back more than 500 years. Picture: Allan Forbes
Historian DJ Johnston-Smith, who tackled NTS on social media, said: "In case anyone is wondering why an official acknowledgement of the historic wrongs of the Scottish witch mania is so important, look no further than the latest edition of the National Trust for Scotland magazine and its puff piece on the refurbishment of Gladstone's Land.
"In an act more befitting a horror-themed venue than a national heritage body, NTS have decided to honour an obscure former owner of part of the building, who is implicated in death of one 'witch' and the arrest and torture of at least two others, by naming a holiday flat after him.
"As most public bodies are reassessing sites and modes of public commemoration this is an extraordinary action."
Claire Mitchell QC, co-founder of the campaign, said although NTS had apologised and admitted its article was "written rather insensitively" it had told her it was still pressing ahead with the planned tribute.
Claire Mitchell QC is co-founder of a campaign to secure an official apology and a pardon for women persecuted for witchcraft crimes in Scotland. Picture: Ian Georgeson
She said: "The rationale for naming the room after him is apparently to provide an opportunity give insight into the times he lived in.
"I have no objection to history being properly recorded. However, had Mr Struthers been involved in the slave trade, would consideration be given to naming the room after him 'to provide an opportunity give insight into the times he lived in'? I think not.
"The exact same considerations apply in the present in relation to his involvement as an Investigator in witch trials.
"I've no difficulty with history being recorded, but the naming of a room after this man elevates his status as someone who should be remembered.
The new-look Gladstone's Land will have an ice cream and coffee parlour and newly-refurbished holiday apartments.
"As a society, we never name rooms, streets, places or erects statues to those who we want to remember for the negative things that they did. The fact that a 'holiday apartment' is being named after him seems extraordinarily insensitive.
"I would urge NTS to rethink their plans to name this after William Struthers and consider naming the room after a woman who lived in the 17th century instead."
A spokesman for NTS insisted Struthers had played a "minor role" in the trial of Mure and said there was no evidence he was involved in the decision to execute her.
He added: "As we prepare to reopen Gladstone's Land after major restoration work, we have used the latest historical research to illustrate the changing uses of the property over the centuries.
"By telling the stories of the people who actually lived at the address it gives us an opportunity to say more about the times they lived in.
"The decision to link one of the rented accommodation rooms to the Reverend William Struthers was primarily motivated by his significant position as a Kirk Minister and prominent role in Edinburgh society of the early 17th century.
"He was also a notable benefactor to the universities of Glasgow and Edinburgh and contributed to the advancement of learning in that period.
"We would like to talk with the Witches of Scotland group about how we represent this challenging element of Scotland's history, which saw many women suffer needlessly."
A message from the Editor:
Thank you for reading this article. We're more reliant on your support than ever as the shift in consumer habits brought about by coronavirus impacts our advertisers.
If you haven't already, please consider supporting our trusted, fact-checked journalism by taking out a digital subscription.
Joy Yates
Editorial Director