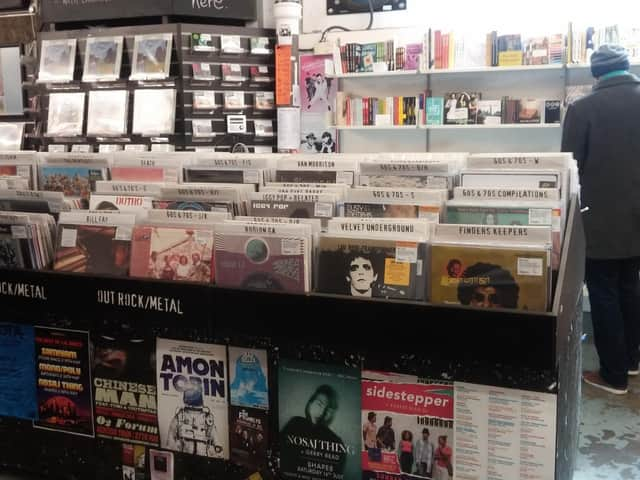 Record Store Day is being celebrated for a 13th year in 2020.
More than 200 independent record shops across the UK will come together to celebrate their culture, with special vinyl releases made exclusively for the day.
Many shops will be hosting artist performances and events to mark the occasion, encouraging music aficionados to pay a visit.
Here's what you need to know.
Who are this year's ambassadors?
British indie rock band The Big Moon have been announced as the RSD ambassadors for 2020.
They follow in the footsteps of previous ambassadors likeThe Mighty Boosh, Rag n Bone Man, Sir Elton John, and Kate Tempest.
Organisers said the band have played a huge role in supporting the culture of independent record shops over the last few years.
'Discovering whole new sounds'
On Thursday, 5 March The Big Moon recorded their RSD release live in front of an audience at Metropolis Studios. It will be put on to vinyl and sent to record stores across the UK ahead of the national event.
Organisers say they believe it was the first time in history that an artist has recorded three tracks in a single take in front of a live audience in the studio.
Talking about their role, bassist Celia Archer spoke about their love of record shops: "We're so excited to be ambassadors for RSD. When I was a kid music was still a really tribal thing."
The 30-year-old said: "If you were into alternative music the record store was a really important space to hang out and spend weekends browsing through things with mates discovering whole new sounds and genres."
What is this year's list of releases?
The much-anticipated release list this year includes specially created products from the likes of Christine and the Queens, Charli XCX and Tom Grennan to Paul McCartney, Primal Scream and My Chemical Romance.
Ashli Green, one of Record Store Day's board of organisers said: "It's another huge year with a great and eclectic mix of releases for all record shops to get stuck into!
I'm particularly looking forward to Snapped Ankle's "21 Metres to Hebden Bridge" and the Christine and the Queens 7" release, "La Vita Nuova: Sequences 2 et 3".
"Biffy Clyro's 7" featuring their versions of Frightened Rabbit's "Modern Leper" and David Bowie's "Modern Love" is definitely going on my wish list too," he added.
The sales of both cover versions will help support the 'Tiny Changes' mental health charity set up in memory of late Frightened Rabbit band member, Scott Hutchinson.
What Scottish artists are getting involved? (Scotsman version only)
Other Scottish talents getting involved with Record Store Day include Primal Scream, who are reissuing the EP of their single "Loaded" in celebration of its 30th anniversary.
And indie rock band The Pastels have put together a 7" of previously unreleased songs from their 1997 Peel Session.
You can see a full list of the special releases for RSD 2020 here.