Recently-discovered Andy Warhol work to be showcased in Edinburgh exhibition
More than 60 textile works by Andy Warhol are set to go on display next year
More than 60 "lost" textiles, which were created by the "pop art" trailblazer during his early career as a commercial designer and illustrator, will be showcased at the Dovecot Studios gallery in Edinburgh.
The collection of work, which depicts ice cream sundaes, toffee apples, colourful buttons, cut lemons, pretzels and jumping clowns, was said to be "unknown and virtually unrecorded" until it was brought together for an ongoing exhibition at the Fashion and Design Museum in London.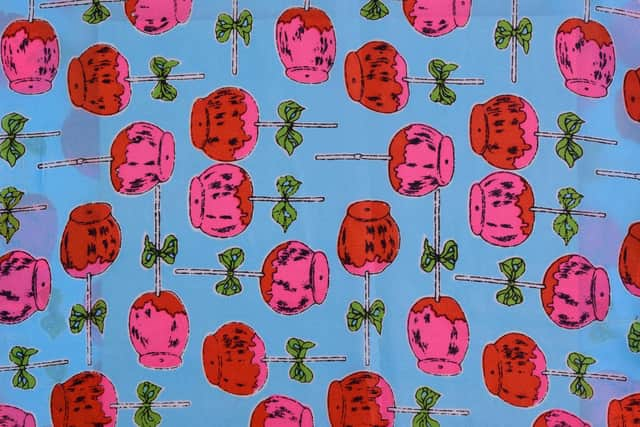 Art collectors Geoffrey Rayner and Richard Chamberlain, who have curated the exhibition, spent more than a decade researching and trying to track down textiles created by Warhol throughout the 1950s and early 1960s.
Next year's exhibition will recall how Warhol sold his designs to manufacturers anonymously. It is believed to be the first devoted to Warhol's work in textiles to be staged in Scotland.
The show, which includes textile works, featuring fabric lengths, garments, prints, film and photography, will be held at the Dovecot from January 26 to June 1. The gallery will be redesigning its cafe and hosting a series of special Warhol-themed events to coincide with the exhibition's run.
Dovecot director Celia Joicey said: "We're thrilled to be collaborating with the Fashion and Textile Museum to bring the first exhibition about Andy Warhol's textile designs to Scotland. Warhol recognised textile as an artistic medium and, as a globally recognised name, offers Dovecot the opportunity to promote tapestry in the context of this joyful and vivacious work."
Chamberlain and Rayner, who have also published a book on their discoveries, added: "This exhibition builds on over a decade of research, several chance encounters and strokes of luck to bring together this previously unknown, but important aspect of Warhol's oeuvre."
The Fashion and Textile Museum, which will close its exhibition this weekend, said Warhol's work in textiles was now regarded as "an important part of his body of work". It added: "These designs added considerably to his ability as an artist, which was then almost entirely devoted to realising the demands and deadlines of professional clients, leaving limited room for fantasy and vision."
Comments
 0 comments
Want to join the conversation? Please or to comment on this article.