Perth Festival: The Seal-Woman, Perth Theatre ***
Last year, when the Scots Opera Project staged the Scottish premiere of Marjory Kennedy-Fraser and Granville Bantock's The Seal-Woman, it did so a century after the Celtic folk opera's original 1924 premiere in Birmingham. In between, it had disappeared from the repertory. This week, at the Perth Festival, it was revived once again.
It's a curious beast, Kennedy-Fraser's folklorish libretto essentially a string of songs in Gaelic, Scots and English sewn together with free-sung narrative and Bantock's inoffensive, though not unattractive, music. A professional cast is augmented by enthusiastic community choir.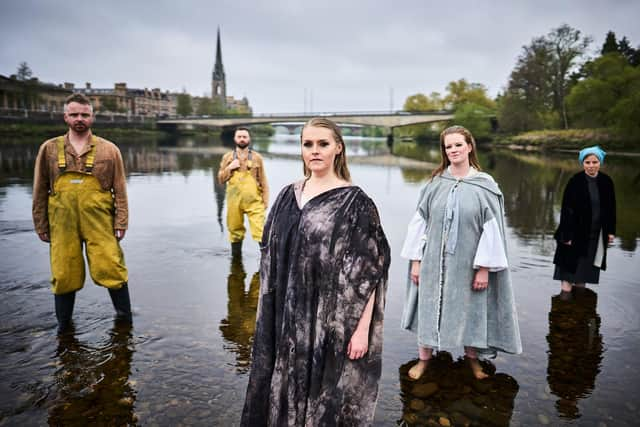 The plot is soft and sentimental – a Seal-Woman and her sister are lured onto a remote Hebridean islet by The Islesman, who takes the sea robes that would allow her to return to marine form and falls for her. Years later they have a child, the sister connives to return the robes to her sibling, and the Seal-Woman dives into the sea with the promise to look after her daughter by sending ample fish in the island's direction.
David Douglas' static production plays simply and symbolically to the opera's essential naivety, making wraparound use of the studio theatre's aisles and balconies. If that somewhat emphasises the slow-moving nature of the piece and the innocuous sameness of Bantock's continuous score, there is periodic charm in such familiar song borrowings as the Eriskay Love Lilt, where the composer's post-Wagnerian harmonic invention takes flight.
Among the cast, Sioned Gwen Davies' title role singing is engaging, and Hebba Benyaghla holds the performance firmly together with fluid and flawless music direction on solo piano. What's missing, though, is Bantock's original ensemble instrumentation, which I suspect is where the "glorious technicolour" of this piece may indeed lie. Without it, any version you get is intrinsically monochrome.