Passions: As the nights draw in, we're entering peak Jonathan Creek season
Comforting and escapist, each episode offers up an irresistible puzzle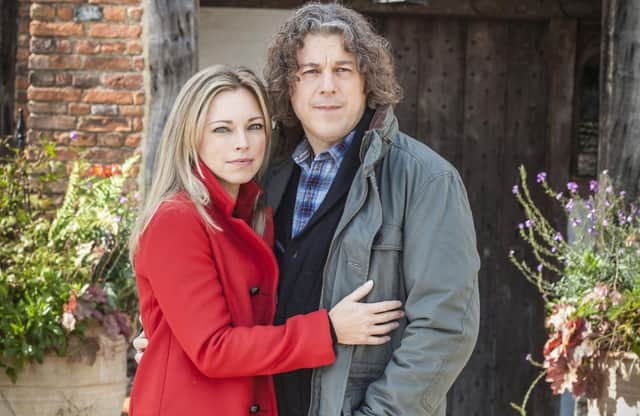 As the nights draw in and a chill descends, my thoughts turn to one of the highlights of my personal cultural calendar. We're entering peak Jonathan Creek season.
Few things warm the soul like an episode of the long-running drama series, which first aired in 1997 and remains one of the best things ever broadcast on British television.
You'll be familiar with the concept, of course. Alan Davies plays the titular character, a windmill-dwelling introvert who dreams up illusions for a flamboyant stage magician. Caroline Quentin plays Maddy Magellan, the investigative journalist who exploits his talent for lateral thinking to solve seemingly impossible mysteries.
Creek's initial reluctance to get involved is part of the charm. He doesn't want to meddle, but faced with a fiendish conundrum, he just can't help himself. From locked-room murders to killers who apparently disappear into thin air, each episode offers up an irresistible puzzle.
The chemistry between Creek and Magellan is a big part of the series' success – as is the sharp, self-aware writing. It doesn't shy away from its own ridiculousness.
"The aim was to capture the spirit of the classic writers like Agatha Christie without the show becoming too corny or mannered," its writer, David Renwick, explains in the book The World of Jonathan Creek (a vital addition to any bookshelf). Sherlock Holmes and Columbo are obvious influences.
Jonathan Creek is comforting and escapist, even if it wrestles with some dark themes. As a young kid, I loved the creepy, supernatural set-ups, and Creek's unflappable scepticism. Its theme tune, an arrangement of Camille Saint-Saëns's Danse Macabre, still sends a pleasant shiver down the spine.
Maddy Magellan also helped spark my early interest in journalism. This feels slightly dubious in retrospect, given her somewhat unscrupulous methods. In the very first episode she is shown casually phone hacking, years before the practice brought down the News of the World.
The show survived Quentin's exit at the end of the third series. She was replaced by Julia Sawalha for the 2001 Christmas special – a classic episode – and later by Sheridan Smith as paranormal investigator Joey Ross. Sadly, the post-2010 episodes, in which Sarah Alexander plays Creek's wife Polly, marked a decline in quality.
Jonathan Creek has been absent from our screens since 2016. But on these cold, dark evenings, do yourself a favour and dust off those DVDs. You won't regret it.
​Alistair Grant is Political Editor of The Scotsman
Comments
 0 comments
Want to join the conversation? Please or to comment on this article.