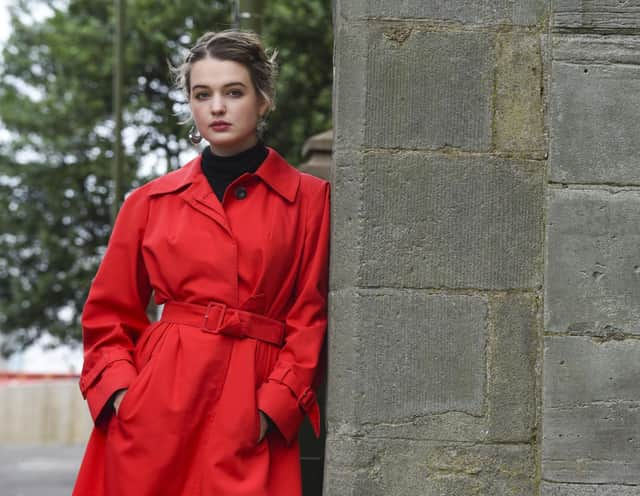 Actress Tallulah Grieive is the patron of Leith-based youth theatre company Strange Town.
She was on the red carpet at the Glasgow Film Festival launching a big new Scottish feature film and had just started filming a star-studded American musical based on the fairytale Cinderella.
Within weeks, in common with everyone else working in film, television and theatre, the Leith actress's world had turned on its head.
The planned April release of Our Ladies, the long-awaited adaption of Alan Warner's best-selling choirgirls-on-tour novel The Sopranos, was put on hold.
Production was also halted on Cinderella, which Greive has been cast in as a princess alongside James Corden, Pierce Brosnan, Minnie Driver, Missy Elliott, Camilla Cabello and Billy Porter.
But four months on, the most pressing thing on her mind is the total shutdown of theatres across the UK and its impact on another pivotal role in her life.
Last year she became patron of Strange Town, the Leith youth theatre company she came through and which helped her break into the industry without any formal drama training.
Now, like many of Scotland's theatre companies, Strange Town is facing a battle for survival.
Leith actress Tallulah Greive is set to shoot to fame with forthcoming roles in Our Ladies and Cinderella. Picture: Lisa Ferguson
Greive, 22, said: "It's an incredibly scary time for the industry as a whole, but especially for organisations like Strange Town, which have been completely cut off from any form of income.
"As someone who has come through youth arts organisations like Strange Town and at the Lyceum, and been really supported by them, I just wouldn't be where I am now without them.
"We don't have equal opportunities in the arts yet. We can't afford to go backwards. There are still huge inequalities.
"Strange Town had been rehearsing a whole bunch of different plays and new writing, which so many young people provided ideas for and were going to have their voices heard.
"Suddenly it was like, 'We can't perform them and you guys can't see each other any more.'
"I had other friends who were in plays or were in rehearsals. It was such a huge shift for everyone. Actors are used to being unemployed, but this is different."
Speaking before the Scottish Government announced a £10 million lifeline fund for arts venues, Greive is dismayed at the lack of support for the UK theatre sector.
"The West End is meant to be the crown jewel of UK theatre, but there are huge theatres in trouble now. How are small local theatres going to survive? They're the gateway.
"There is a misconception that the arts are a passion project. They're an industry and a business people make a living from.
"There is a strange paradox because loads of people are sitting at home watching the National Theatre at home and saying that watching films and TV has kept them going through lockdown.
"They don't seem to understand that these things need money."
Like the rest of the main cast in Our Ladies, which charts the exploits of a group of Highland teengers let loose in Edinburgh during a day trip for a choir competition, Greive was a relative unknown when she was cast in the movie, which had its world premiere at the London Film Festival in the autumn, to acclaim from industry critics.
Michael Caton-Jones adaptation of Warner's mid-1990s novel was billed as "raucous tale of love, life and true friendship" in Sony's advance publicity campaign, before it was abruptly put on hold by the pandemic, shortly after that Scottish premiere in Glasgow. It has, however, been rescheduled for a September release date in cinemas.
Greive said: "I was obviously sad when we all heard that it was going to be delayed but I'm glad it's not been released yet. They could have put it out on a streaming service, but there is so much content out there now.
"I feel that it shows that Sony really believes in the film. We've got a team working on it who really care about it.
"In my head it feels like it has already come out, because we made it and we got to do film festivals in London and Glasgow. The launch will feel like a real bonus now.
"London just felt like an absolute fever-dream for me because I'd never done a red carpet event before. I spent the whole time in a state of panic - it was terrifying. It was the first time that so many of us had had that experience."Glasgow was a lot easier. It was much calmer. You also got a sense of how the communities in Scotland that the represents would react it. It was really emotional. Michael really loved bringing it to Glasgow, where we had done a lot of the filming. It felt like it had come full circle.
"The audience in Glasgow were laughing after 30 seconds I thought: 'Oh great, people really get it.' It's such a Scottish film and it felt like a big homecoming.
"I got really emotional watching it because I feel like I'd never really connected with a character like that before. I didn't even see her as me. It was a really strange out of body experience for me.
"We've had such a lovely responses from people so far. It will be so mad when my friends can actually see it."
Greive, who still working on the CBBC sitcom Millie Inbetween when she was put forward by Strange Town for Our Ladies. A couple of months after its London premiere Greive landed the role of a princess in Cinderella.
Greive is so sworn to secrecy about the production that she will not even say anything about the character she will play, who she has been filming with, or even where she was shooting scenes before production was halted.
However it is billed as a modern reimagining of the classic fairytale, which is said to have been dreamt up Corden, with singer-songwriter Cabello due to make her acting debut in the lead role and Porter as the fairy godmother and Brosnan and Driver as the king and queen.
Greive said: "It was definitely a surprise to get the part. You do hear about projects like this but you don't ever imagine you could be part of one.
"It a huge project, it is so exciting to be a part of it. I'll take one degree of separation from Missy Elliott any day.
"There is such amazing diversity in the cast. For people to see themselves in that kind of representation is just so necessary. It is also going to mean so much to so many people.
"It's definitely the poshest part I've ever played. Being a princess is definitely a step up from playing a schoolgirl in 1996."
A message from the Editor:
Thank you for reading this story on our website. While I have your attention, I also have an important request to make of you.
The dramatic events of 2020 are having a major impact on many of our advertisers - and consequently the revenue we receive. We are now more reliant than ever on you taking out a digital subscription to support our journalism.
By supporting us, we are able to support you in providing trusted, fact-checked content for this website.