Excellent crime dramas dominate today's television schedules. Re-imagining Bizet's Carmen in such a spirit, as director John Fulljames does for this brave new Scottish Opera production, might seem an artistic liberty, but there is arguable justification in that Mérimée's eponymous novella, on which the opera is based, hears the story from the perspective of José explaining his murderous crime.
Therefore, Fulljames' Carmen opens over the Prelude in the interrogation room, a character conjured out of thin air – Scots actor Carmen Pieraccini playing a dry-as-a-bone detective schooled after Jackie out of Taggart – slicing the truth from Carmen's killer, a broken Alok Kumar as José.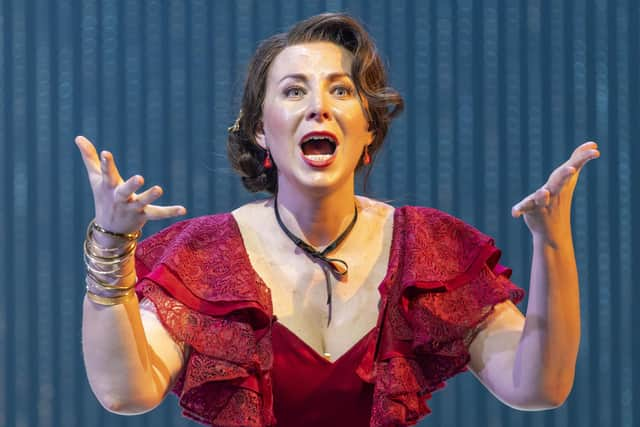 Nice idea, and it's followed through to the bitter end, with a parallel narrative following the detective's attempts to crack the case.
It does, however, deflect Bizet's construct to a more secondary position, and even dilutes another of Fulljames' stimulating thoughts – updating the action to 1970s post-Franco Spain where women like Carmen sought long-awaited freedom. It's as if a glut of good ideas somehow collides to overall weakening effect.
Yet there is still much to marvel at in this freshly conceived Carmen, enriched by modern digital projections and a darkened design concept, and sung in Christopher Cowell's new English translation by a cast and chorus whose hearts are always in it.
Outstanding moments spring out of the blue, such as Hye-Youn Lee's heartstopping Act 3 aria as Micaëla, and the one true explosion of colour issued by the bullfight crowd, children included.
Kumar's searing tenor performance attains tumultuous heights. As Carmen, Lithuanian mezzo Justina Gringytė offers raspingly sensuous moments but struggles with some English pronunciation, and Phillip Rhodes looks the part as Escamillo but is not the most vocally heroic. A fine supporting cast strengthen the dramatic impact.
The greatest consistency comes from the orchestra, magnificently emotive and alert under conductor Dane Lam.