Opening up 'treasure trove' archives of Alasdair Gray, James Kelman and George Mackay Brown
National Library has acquired personal material built up over decades
Kept for decades in cardboard boxes and disintegrating plastic bags, they are a treasure trove of diaries, drafts, doodles, pocketbook, lists and letters offering invaluable insights into the minds of three of Scotland's leading writers of modern times.
Now a major appeal is underway to help open up public access to the personal archives kept by Alasdair Gray, James Kelman and George Mackay Brown.
The material - which has been largely unseen by anyone other than the writers themselves - is said to include unpublished works and early drafts of some of their best-known books.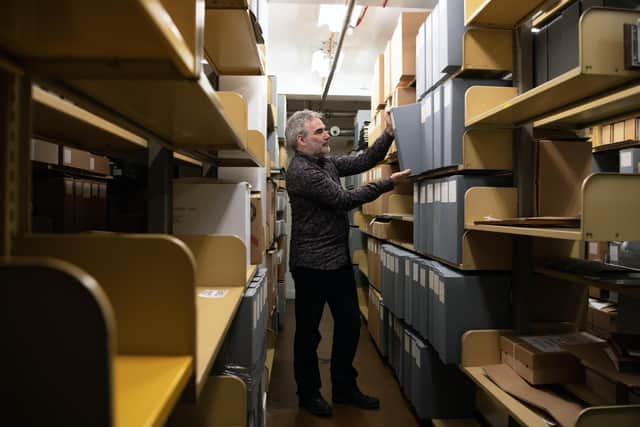 Fans around the world are being urged support a new fundraising campaign to pay for specialist curators to sift through and fully catalogue the papers so they can be made available at the National Library of Scotland in Edinburgh – either for personal inspection or given pride of place in future exhibitions.
Experts say the online fundraising campaign will allow the public to view the "director's cuts" of books by the authors as well as allow the library to make the most of collections it describes as "an integral part of Scottish culture."
The National Library's biggest public campaign of the year will help pay for painstaking research following previous extensive projects to document the vast personal archives of Dame Muriel Spark and Sir Ian Rankin, will unearth previously unknown stories and new discoveries about the three writers.
Dr Colin McIlroy, manuscripts curator at the National Library, said: "A writer's archive gives us insight into their lives and creative process beyond what we read in their books – it's the story behind the stories. Writers can reveal a lot about themselves in their diaries and papers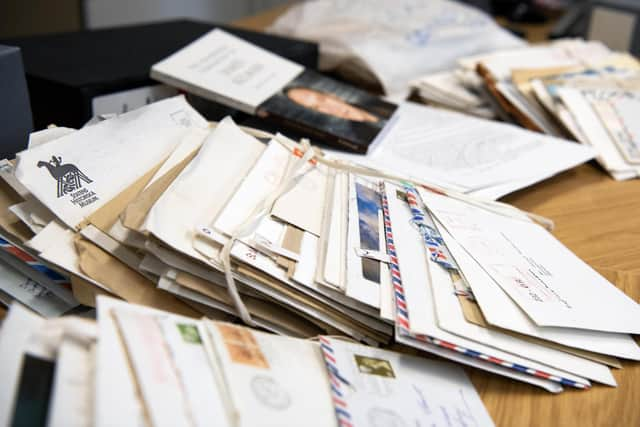 "Alasdair Gray, for example, has the ability to transfer whatever is in his mind onto the page. His archive also includes original artwork for 'Lanark.""We want people to see these archives and others like them, and discover more about the writers themselves.
"There is something to appeal to everyone in archives, from letters to unpublished works and early drafts of books. There are discoveries to be made.
"You can see drafts with notes around the margins giving suggestions to the printers, and back and forth correspondence with editors over changes.
"You may know the final book, but here's the director's cut, arguably the original intention. You can see a book in a new way."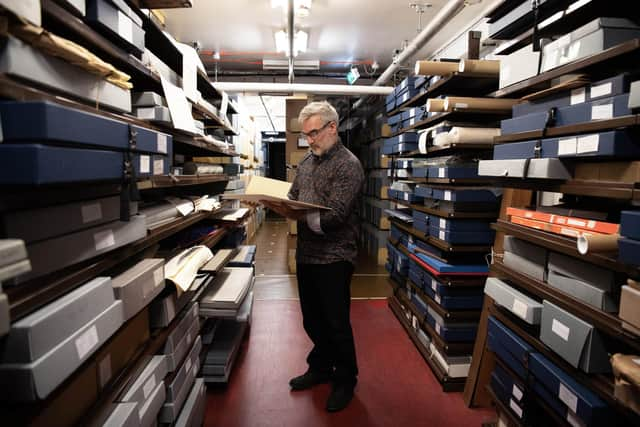 Assistant curator James McIntosh said: "The archives show you not only these authors' whole creative process, but also who the person is.
"All three collections offer so much. We really want to be able to tell their stories and share insight about who they were."
Born in Stromness, in Orkney, in 1921, George Mackay Brown is widely regarded as one of Scotland's leading 20th century poets. The writer won numerous awards between the 1960s and 1990s, and was nominated for the Booker Prize for his collection Beside the Ocean of Time in 1994, two years before he died.
Glasgow-born Alasdair Gray, who died four years ago, trained at the city's art school worked as a part-time art teacher, muralist and theatrical scene painter before becoming a full-time painter and playwright, then an author.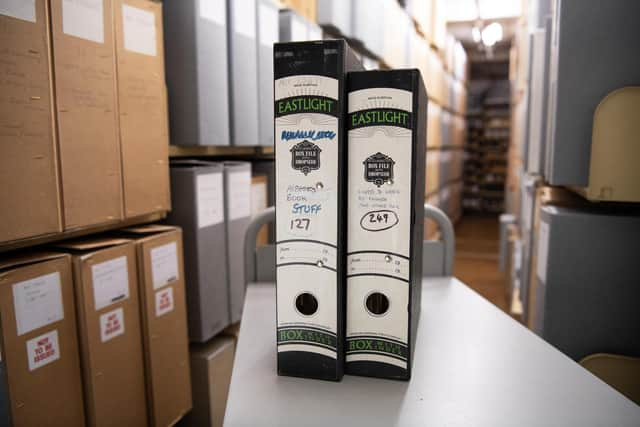 His debut novel, Lanark, which was published in 1981, is widely regarded as a landmark of Scottish literature.
Kelman, who was also born in Glasgow, published his first novel, The Busconductor Hines, in 1984, his third, A Disaffection, was nominated for the Booker Prize and he won the literary award in 1994 with How Late It Was, How Late.
Mr McIntosh added: "George Mackay Brown's diaries are very informative and are filled with the minutiae of his day, including the weather, his meals and the books he is reading.
"There's also hand-written poetry, some of which has never been published.
"He wrote a lot of letters, keeping a detailed record of correspondence using a coding system which has not yet been deciphered.
"A few letters are about his nomination for the Booker Prize in the same year as James Kelman, and his anxiety around the publicity and increased attention this brought.
"His letters suggest that although he was a quiet and introspective man, he was generous as a correspondent.
"Alasdair Gray's archive contains ledger-books with drawings and handwritten notes, and even a sketch created while working in the National Library.
"The books also include handwritten pages from his 'Dante's Divine Trilogy'.
"You are offered real insight into his mind and methods. He was very visual.
"In addition to his literary manuscripts, James Kelman's archive includes correspondence and personal papers, such as a list of jobs he had – from a bus conductor to an asbestos mixer.
"The archive highlights his community and political engagement, including his campaign work and promotion of women and underrepresented writers, such as Agnes Owens.
"There's also a letter from the publishers of Douglas Stuart, the only other Scot to win the Booker Prize, asking Kelman for a review of 'Shuggie Bain'."
Dr McIlroy said: "We acquire these archives for the Scottish people and to preserve them for the nation.
"It's so important that we catalogue these wonderful collections so that we can learn what is there and make them available to the public.
"They're an integral part of Scottish culture. They deal with recent and contemporary events, reflecting on life in Scotland, and beyond.
"Archives such as these also influence other writers. Kelman showed new generations they could write in their own voice. Sir Ian Rankin was inspired by Muriel Spark's work.
"Voices that make up contemporary Scottish literary culture are inspired by our collections."
Sir Ian Rankin said: "Cataloguing is a large (and largely invisible) job that remains absolutely indispensable to the National Library of Scotland's work.
"I know from first-hand experience how a skilled cataloguer can create order from a chaos of files, folders and scraps of paper. That's why I support the National Library's fundraising drive – please do join me."