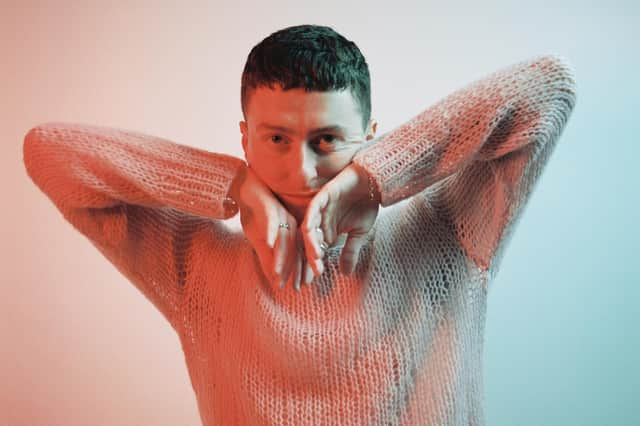 Glasgow-bred and now London-based soul singer Joesef may be shivering in his single-glazed flat in Hackney Wick – "it's like throwing money out the window," he quips – but he knows he is on the up and up, having hit various landmarks since first appearing, seemingly fully formed, straight out of Garthamlock, in 2019. Ever larger gigs in sold out venues, a brace of singles and a couple of EPs, Play Me Something Nice and Does It Make You Feel Good?, are all well and good but Joesef is currently high on the Elton John Factor, having recently received an encouraging phone call from the pop legend with his finger on the pulse.
"I was freaking out," says Joesef. "I've never been that starstruck in my entire life. He said I've got a nice light about me. I think I just blacked out for ten minutes."
Another highlight of 2022 was a closer-to-home encounter with Douglas Stuart, the Booker Prize-winning author of Shuggie Bain and Young Mungo. "He's one of my literary heroes and the conversation that we had was one of the best days I've ever had, I was geeking out on it," he says. "I feel like there's a lot of parallels in our life. We were both young, queer guys growing up in Glasgow, exposed to a lot of things at such a young age. He had a lot of alcoholism in his family, so did I. I identify so much with his books because of how vividly and viscerally he describes Glasgow in such a beautiful but horrific way – it is quite a violent place but also really passionate, so to be able to see yourself represented in a book in that way was an affirming experience."
Joesef shares another experience with Stuart – he has now left his home city to make his way in his chosen creative field, although his reasons for moving to London are a little more prosaic. "I was doing well in Glasgow before I moved to London," he says. "I just did it to work in a better studio and not in my bedroom."
Having said that, Joesef has relinquished his east end bedroom to record in a tiny Brixton studio with producer Barney Lister, who he describes as "a big happy Yorkshireman. Me and one other guy, heads together, not a massive amount of kit. It wasn't that far away from a bedroom feel…."
He may have moved to London on a semi-whim but the resulting debut album, Permanent Damage, has been almost entirely formed by his mixed experiences in the big smoke. "I love it here," he says. "It's never a dull day in London, just walking the streets, there is something always happening. But I feel by design London is quite lonely because nobody is from here, everybody has come here to work. It took me a while to get my bearings, but it's starting to feel a bit more like home."
His early months in the city were dominated by an intense, ultimately failed relationship which has left its mark on the bittersweet soul pop songs he has written for the album.
"All my music is very much my life as it happens," he says. "Moving to London and uprooting myself put me in such an uncomfortable position. It was a bit of an existential crisis being so far removed from the reality that I'd always known – all I could do was write.
"Permanent Damage is about being changed indefinitely by this relationship. As I came to the end of it I realised that I was more devastated about losing the version of myself before I went into this relationship, that boy who had a wee bit more of a spring in his step, after he was jaded by heartbreak.
"The words Permanent Damage have a negative connotation. Change isn't always a bad thing, but at the time it feels so devastating. I was so in it and so depressed when I was making the album but I'm on the other side of it now and I've got this body of work that I'm so proud of."
Permanent Damage is far from a heavy listen – there is a gentle, soothing catharsis in its songs which Joesef learned from his mother's collection of Motown records. "The delivery of the song was upbeat, but the subject matter was so dark and that has seeped into my work a wee bit – sad music but delivered in a way you can dance to it."
The sumptuous strings which give Joesef's music its ravishing swoon were arranged by Rosie Danvers ("such a boss") and recorded in RAK studios but anyone who has followed his career from the outset will recognise his Caledonia soul stamp on the album – in some ways, he has not travelled far from his roots. "I feel like the more time I spend away from Glasgow the more I appreciate it," he says.
There is a touch of self-comforting nostalgia on the song East End Coast – Garthamlock slang for the River Clyde. "When I wrote it I felt so isolated and far away from my mates and my mum and my family and I related that sentiment back to how I feel about Glasgow, how even in hard times that I've got Glasgow and Glasgow's got me. Whenever I sing it I always feel like I'm back home."
Permanent Damage is released by AWAL on 13 January. Joesef plays the Queen's Hall, Edinburgh, 23 March and Barrowland, Glasgow, 24 March