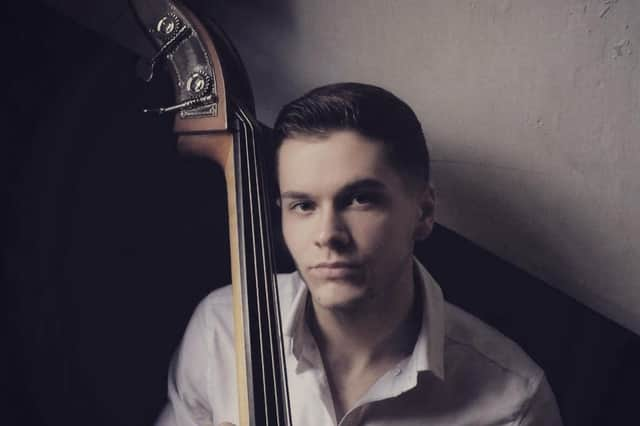 Is it too much to suggest that there was some auspicious heavenly conjunction that caused the 2022 centenary year of jazz double bass legend Charles Mingus to usher in the first bassist to win the BBC Young Jazz Musician competition?
Twenty-year-old Ewan Hastie, currently in his fourth year of a Bachelor of Music degree at the Royal Conservatoire of Scotland's jazz programme, won the coveted title at the televised final in the Queen Elizabeth Hall in November, when he played against four other formidably talented finalists. His set comprised two numbers by distinguished jazz names – fellow bassist Oscar Pettiford's Tricotism and pianist Chick Corea's Humpty Dumpty – plus a mature-sounding composition of his own, Impulse.
He was accompanied by one of Britain's leading jazz pianists and composers, Nikki Yeoh and her Infinitum trio of Michael and Mark Mondesir on bass and drums respectively, with whom all the contenders had worked in the run-up to the final. One of the judging panel, vocalist Claire Martin OBE, commented that while judging between the five had been a tough business, they were impressed at Hastie's choice of three contrasting tunes, "which he played brilliantly. He has fantastic harmonic knowledge, great chops and we loved his soulful feeling for the bass. We liked his energy, we liked the way he communicated with the other musicians – all in all, he had everything for us."
Unsurprisingly, Hastie is "over the moon" at his success and at the opportunity to work with musicians such as Yeoh and company, who provided an empathetic setting for the bassist, who performed with a fluidity and creative confidence that belied his years.
Edinburgh-born, Kirkcaldy-raised Hastie has come a long way since, as a fledgling bass-guitar-playing member of the Fife Youth Jazz Orchestra, he was rummaging through the instrument store at the Lochgelly Centre where FYJO rehearsed, "and I came across this big instrument, decided to give it a go and never looked back".
He was undeterred by the fact he is left-handed, necessitating him, for the first month or so to "almost think backwards, which was confusing because I'd been playing left-hand bass guitar". Then, at a workshop, he met seasoned bassist and FYJO alumnus Andy Hamill, who told him simply to change the strings and bridge around – contrary to other advice he'd been given: "So I did, and from there on I got a specially made left-handed bass."
At home, he had been surrounded by music – his father was a jazz fan and played drums, as did his brother. Following his time with FYJO under the ever-fruitful mentorship of its longstanding director, pianist Richard Michael, Hastie auditioned successfully for the National Youth Orchestra of Scotland's Jazz Orchestra, which, among other things, saw him on a memorable tour with renowned trumpeter Yazz Ahmed which took in Glasgow, Skye and the Sligo Jazz Festival.
His teens also saw him attending the RCS's Junior Conservatoire every Saturday before enrolling in the full-time BMus course, where he studied with, among others, a familiar figure on the Scottish jazz scene, bassist Mario Caribe.
"All the tutors are such great musicians and also wonderful teachers," he says of the RCS. "At every class you're always learning something. I've had a few one-to-one lessons with Tommy Smith [head of jazz at RCS] and he's an amazing teacher."
Saxophonist Smith, for his part, has described Hastie as "the best bass soloist I've heard at his age – ever".
Early in 2022, he received the Mark McKergow Prize for Jazz Improvisation at the RCS, following which he and some other RCS students participated in a week-long European Jazz Workshop in Nuremberg, which found them jamming with other young musicians from across Europe.
Then of course, there is his ongoing extra-curricular education within Glasgow's vibrant young jazz scene, jamming with fellow-students and others. As it is, his Glasgow flatmates include award-winning saxophonist and fellow-RCS alumnus Matt Carmichael.
"Everyone knows everyone on the Glasgow scene and you get a chance to play with everyone, whether it's a gig someone's set up, or a jam, while within the RCS you play with everyone else in concerts." And he refers to the conservatoire's recent big-band tribute to the fabled bass guitarist Jaco Pastorius: "That's the kind of music I was brought up listening to. I knew all the charts and it was amazing to be playing it with a big band."
Now he hopes that, following graduation later this year, winning the BBC competition will help open doors to further opportunities. "I've not got a band yet, but I hope to get one happening soon and to release some of my own music.
"It is a wonderful feeling to know at such an early age what it is that you're going to be doing for the rest of your life."