Ones to watch in 2021: Rylan Gleave, composer
One of the brightest lights in Scotland's new music scene, Rylan Gleave has been especially prolific during the pandemic, he tells David Kettle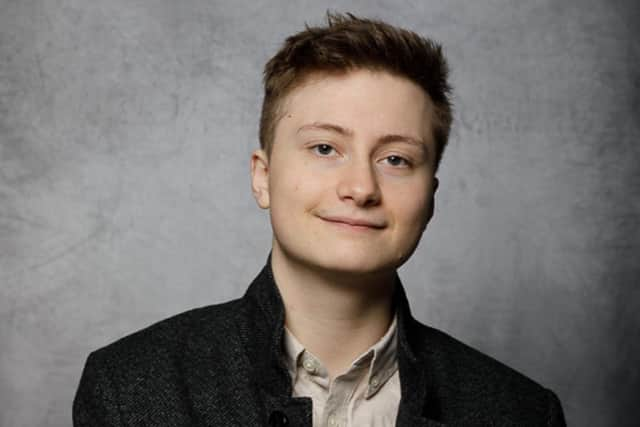 It was almost by chance that composer and baritone Rylan Gleave ended up in Scotland. "I was supposed to be studying at the Royal Welsh College, but as a Christmas present I received a short course at the Royal Conservatoire of Scotland," he explains. "I had a great time, and head of composition Gordon McPherson, who was running it, asked me: have you thought about applying here? I said: but you've already turned me down as a singer. He said: no, as a composer – come down with me and we'll speak to the office now about what's possible…"
It was a quick but evidently life-changing decision for Gleave. Following four years as an undergraduate at the RCS, he's now a postgraduate there, as well as being a singer in a heavy metal band (we'll return to that later) – and, most importantly, an increasingly prominent presence in the Scottish new music scene, with his distinctively lyrical, sometimes quite challenging music. His UNSUNG II; Harbinger&Herald for flute and electronics was unveiled at Aberdeen's sound festival in October, and he's following it up with UNSUNG II; even from a loved one for chamber septet at sound's second online weekend at the end of January.
They're just two new works among what's a surprisingly large and varied output for a 23-year-old composer. "I'm blessed with the ability to write very quickly," he admits, adding, "although I can't really confirm the quality of it all." He's early in his career, certainly, but there's no doubting the already assured voice across his music. He's been especially prolific during the pandemic period, composing several pieces including before, and since (premiered by Aberdeen-based ensemble Any Enemy over Zoom in June), and a saxophone piece for the Nevis Ensemble's Lochan Sketches lockdown project. Particularly impressive is his rapturous, St Kilda-inspired string quartet in waves, recently taken up by the New York-based JACK Quartet for a professional recording project.
"I'm very good at procrastinating over projects," he admits. "But if I get stuck on one, I'll just swap over to another." He's also able to spend 14 or 15 hours at a stretch composing, something he puts down to his autism. "When I'm working on something intensively, it can feel like I have lots of tendrils coming out of my brain – it takes a long time for them to get rooted, but it's very hard to loosen them again once they're there."
Indeed, Gleave cites his own personal experiences as a running theme through his music. "I've not had a whole bunch of life experience, but what I have had has been quite varied." He identifies as both autistic and trans, and feels like his music is often both deeply personal and political. "There's a piece of my called Permanent Address, for example, which is about navigating neurodiversity and loneliness. And there's a string quartet called Don't Call Me That! which takes text from a Facebook group I was in, which ended up becoming quite homophobic and transphobic."
But just as Gleave is a singer as well as a composer, he's also the frontman of black metal band Ashenspire as well as a classical musician. And that, too, came about partly by chance. "As I transitioned and my voice dropped, I realised I had a really rich baritone, which was far from my previous mezzo voice, so that gave me the confidence to perform. Joining a heavy metal band was really good for that. My partner is the creator of the band – he writes the music and plays the drums, and asked me to be in it. I loved that kind of music as a teenager – it was kind of guilty pleasure music when I was at music school."
And like the tendrils he mentions with his concentrated composing, Manchester-born Gleave feels he's now become deeply rooted in Scottish music, despite only living north of the border since 2015. "I absolutely think of Scotland as somewhere I won't be leaving. My piece Permanent Address is actually about that: where I'm living now, in Finnieston in Glasgow, is the first permanent address I've had in nearly a decade. There's something so incredibly welcoming about being here – I've never felt like I wasn't invited and welcome. And Scotland's new music scene is huge and thriving."
A message from the Editor:
Thank you for reading this article. We're more reliant on your support than ever as the shift in consumer habits brought about by coronavirus impacts our advertisers.
Joy Yates, Editorial Director