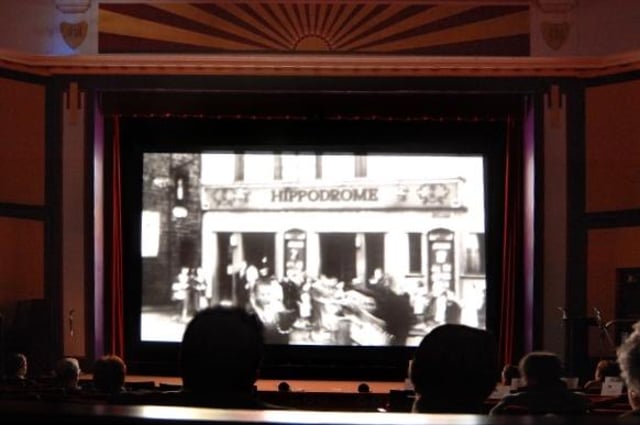 The Hippodrome Cinema in Bo'ness
Scheduled for what now feel like the notorious dates of 18 to 22 March 2020, last year's outing of Bo'ness's Hippodrome Silent Film Festival – or HippFest, as it's affectionately known – was one of the first artistic casualties of Covid-19. "Every day we were listening to news, and it was creeping closer and closer," remembers HippFest director Alison Strauss. "Our opening night ended up coinciding with the day that cinemas had to shut. It was heartbreaking."
All the more heartbreaking, in fact, because 2020 would have been the festival's tenth anniversary. Inspired by its home venue – Bo'ness's elegant 1912 Hippodrome cinema – HippFest has been bringing together little-known silent movies with some of the world's top live accompanists – as well as commissioning new scores from others fresh to the genre – to increasingly large and enthusiastic audiences.
And the central role of the Hippodrome cinema itself is something that Strauss is keen to continue in the 2021 festival – HippFest's tenth anniversary reborn, and now entirely online. "It really needs to bring in as much of the original concept as possible," she explains, "so we've recorded some introductions inside the venue, and we're also having a virtual behind-the-scenes tour." Also planned are live Q&As with the musicians taking part, plus a virtual festival hub where watchers can mingle.
Festival director Alison Strauss
But it's the films and their related music that matter most, and it's a particularly rich programme for 2021. Two HippFest regulars – multi-instrumentalist Stephen Horne and pianist John Sweeney – accompany (respectively) Louise Brooks feature Prix de beauté and Russian comedy Chess Fever. And going online has allowed Strauss to invite larger ensembles who simply wouldn't have fitted into the rather bijou Hippodrome. "Our opening night is Body and Soul with music from Wycliffe Gordon and his jazz orchestra, and for our closing night we have Neil Brand's orchestral score for Underground, performed by the BBC Symphony Orchestra."
Performances won't be live – "it's just too risky beaming people in from their living room in South London, for example," Strauss admits – but she's keen, where possible, to incorporate the musicians into the online feed. "They'll be somewhere on the screen as well," she says, "but it'll vary from musician to musician."
One particular highlight is the 1929 German film The Woman Men Yearn For, an early Marlene Dietrich feature (made a year before The Blue Angel). It's accompanied by the quartet of musicians from the Frame Ensemble, led by pianist and silent movie expert Jonny Best, and is a collaboration with the Yorkshire Silent Film Festival, which Best runs. Though pre-recorded, it's an entirely improvised score, he explains. "When you collaborate with other musicians, you've got – in this case – four separate responses to the film. You have to listen hard to each other to pick up clues as to where someone might be going next."
He admits, however, that here's a certain amount of pre-planning involved. "We want to be mentally prepared for the shape of the story, so we know where things are going, and how we want the audience to feel at the end. And it's important to establish a musical style – there needs to be a musical logic underneath it that we can all understand." In this case, their sound world is Kurt Weill-style Weimar-era cabaret. "We like working in that 1920s style – you get a slightly distorted sense of harmony," Best continues.
A still from The Woman Men Yearn For PIC: Courtesy of Friedrich Wilhelm Murnau Stiftung
But – and with this being a music rather than a film column – both Best and Strauss point out that the musicians play an integral role in the silent movie experience. Rather than simply an accompaniment, Strauss says, "it's an interpretation." Best agrees: "You take a subjective position to what's on the screen. What we do is more of a commentary, even more so because the music is continuous. We try to create a musical world that the audience can live in for the whole of the film – one with enough light and shade, enough loudness, quiet and space."
A message from the Editor:
Thank you for reading this article. We're more reliant on your support than ever as the shift in consumer habits brought about by coronavirus impacts our advertisers.