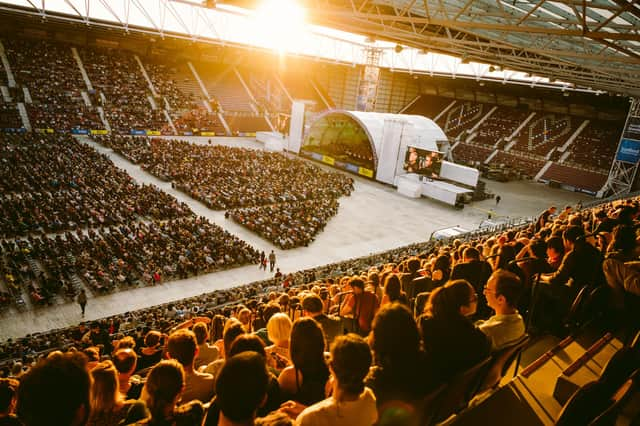 The Edinburgh International Festival moved its opening event out of the city centre to Tynecastle Park in 2019.
Temporary Edinburgh Festival venues are set to be created at sites outwith the city centre this year under plans for a radical reboot of the city's annual cultural celebration if restrictions on live events are eased in August.
Parks, gardens and other public spaces are being considered as bid of efforts to help ensure that concerts and shows can go ahead before socially-distanced audiences.
It is thought temporary stages and venues could be created in a number of different locations and used by the various summer festivals.
Inverleith Park, Leith Links and Saughton Park are understood to have been discussed as potential sites.
An official report for councillors on proposals to help the city's flagship events and festivals recover this year confirms that the city's parks services is among the council departments offering them "all necessary expertise".
It says that "imaginative formats" are being actively explored for this summer to help the city retain its "world-leading festivals status."
The report also states that the festivals are "exploring and developing options and feasibility of re-purposing spaces as well as modelling options using the crisis to think differently including looking at further collaborative initiatives in August."
Inverleith Park is believed to be one of the options to become a new outdoor festivals venue this summer.
The plans are being drawn up after prolonged calls for the council to take steps to ensure a greater spread of festival venues, shows and activity around the city, to encourage more locals to get involved, as well as tackle crowd congestion and overtourism problems in the city centre.
A proposed new vision for the staging of events in public places, which was published in the autumn, stated: "It is increasingly necessary to manage the intensity of activity in concentrated central areas of the city, and spread economic benefits of additional footfall over a wider area.
"The council will support and encourage the use of a wider range of spaces for activities and events, while being mindful of the economics of organising and managing events and activities and delivering community benefit."
The blueprint suggested that the pandemic was "a good time to pause and consider what and to what extent our parks and green spaces should be used for."
It is understood that the Edinburgh International Festival, which receives more than £4.5 million in Scottish Government and city council funding, is leading efforts to create the new performance spaces for this summer.
It has already created temporary outdoor stages for performances in four school playgrounds in the city as part of a drive to encourage an interest in arts and culture at an early stage.
Sources say the festival has been in talks with the council for the months to find suitable sites where socially-distanced audiences would be able to gather.
It is thought the events at the new outdoor sites could have more appeal to some audiences than attending limited capacity shows in indoor venues in the city centre.
However a spokesman for the Edinburgh International Festival said it was "too early to say what our plans are at the moment."
The plans have emerged ahead of an online conference on the future of the festivals being staged by the Cockburn Association heritage watchdog today.
In its own manifesto for the future of the city, published last year, the group called for the council to actively pursue new ventures to rethink how and whether festivals and events were staged in the city centre.
Its dossier, Our Unique City, said: "There should also be policies to disperse culture and tourism around the city, partly to protect the living environment in areas currently most pressured, but also to make events more accessible and inclusive to all parts of the city."
The new report for councillors, produced by its culture department, states: "Officers are continuing to work closely with the city's festivals and venues networks.
"We are collaboratively exploring and developing options and planning for both events and venues being reintroduced, and in renewed and imaginative formats.
"Of course, risk assessment and following public health guidance is fundamental to every aspect of this collective approach.
"We are working together on the shared priorities of developing deliverable event models and maximising employment opportunities; retaining our city's world-leading festivals status; and on our city's venues being fully prepared to re-open at the first opportunity.
"Officers are ensuring all necessary expertise is available to the festivals, working alongside licensing, business growth and inclusion, environmental health, planning, roads, and parks services.
"The festivals are also exploring and developing options and feasibility of re-purposing spaces as well as modelling options using the crisis to think differently including looking at further collaborative initiatives in August."
City culture convener Donald Wilson said: "With all that is going on in the city it is easy to overlook the efforts of those in the cultural sector in what has been a challenging, and in many ways disastrous year.
"From outright closure to adapted ways of working, the challenges have been immense but the need has in many ways increased. Few could now dispute the value of cultural and engagement in our daily lives."
Director of place Paul Lawrence told councillors this week: "While the city and events sector has responded to the crisis with determination and innovation with either hybrid models of delivery or the creation of outdoor/online programmes, many events have not been able to take place and have had to be either cancelled or postponed.
"The sector has suffered disproportionately due to indoor venues being one of the last areas to reopen.
"Many workers in the events industry are either self-employed or in small companies and have not had employment or paid work since March 2020.
"In order to allow the events sector to recover, the council plays a vital role in supporting the sector."
Cockburn Association director Terry Levinthal said: "We advocated a number of strategies including dispersal and a shift away from using soft surface sites for active or infrastructure heavy events.
"There are huge opportunities beyond the city centre, but in considering these, it is essential that local communities are involved form the outset and play a significant role in decision-making going forward.
"Managing impacts is crucial with conditions set in collaboration and with strict management criteria."
Professor Joe Goldblatt, one of Scotland's leading tourism and events experts, suggested a rethink of how and where the Edinburgh festivals are staged in future is long overdue.
He said: "The social footprint of the Edinburgh festivals is huge, however, the physical footprint is small. Therefore, it is an opportune time for Edinburgh's festivals to bring their delights to the provinces where social distancing is more achievable."
A message from the Editor:
Thank you for reading this article. We're more reliant on your support than ever as the shift in consumer habits brought about by coronavirus impacts our advertisers.
If you haven't already, please consider supporting our trusted, fact-checked journalism by taking out a digital subscription.
Joy Yates
Editorial Director