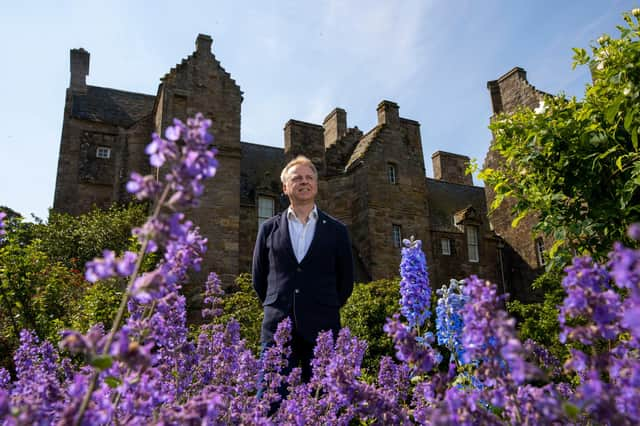 Philip Long has taken over as chief executive of the National Trust for Scotland.
Philip Long, who took up his post of chief executive this week, suggested the trust's efforts to deal with the sudden closure of all of its sites could have been handled differently.
In his first interview since taking up the post, Mr Long insisted that none of the trust's workers had been made redundant yet. He described the NTS's staff as "its most important asset" and revealed talks were ongoing with the Scottish Government on the body's "very difficult " financial situation.
Mr Long, who has joined Scotland's biggest conservation charity after overseeing the development and opening of Dundee's V&A museum, said he understood why the trust was heavily criticised by culture secretary Fiona Hyslop for asking the Scottish Government for financial help when it was proposing to cut hundreds of jobs.
He admitted the public had been "shocked" at the scale of the proposed cuts.
Mr Long pledged every effort would be made to minimise job losses, but said the posts at risk were "partly necessitated" by the need to close down sites across the country over the past few months.
The NTS has warned that some properties such as Brodick Castle on the Isle of Arran, Falkland Palace in Fife, Pollok House in Glasgow, Newhailes in East Lothian and the Bannockburn battlefield visitor centre may have to remain closed until 2022.
Mr Long suggested the trust would be able to remodel those plans if there was a rethink on whether visitor attractions have to enforce the two metre social distancing rule.
But he insisted he did not have a "magic wand" that could make the trust's financial difficulties disappear. It has predicted a £28 million shortfall in its income this year.
NTS announced in May that 429 people out of its permanent staff of 751 were at risk of redundancy – a move branded a "huge blow" to its workforce by the Prospect trade union, which called on the Scottish Government for help.
In the wake of a subsequent meeting with then chief executive Simon Skinner, Ms Hyslop said she was "not impressed" at how the trust had gone about cutting its costs.
More than 9,000 people have since signed a petition calling for NTS to ditch its plans for redundancies.
Mr Long said: "What the trust did was recognise with urgency, probably earlier than many other organisations, the crisis that it was facing and it publicised that.
"What we are seeing now, every day, are waves of announcements about jobs being at risk, redundancies or the closures of businesses.
"I think it is less surprising now, but I think what the trust did was a shock to people, given how early it identified the issue and put in place a plan for survival.
"That doesn't diminish the deeply concerning fact that jobs were put at risk. It is the case that 429 jobs remain at risk, but they are at risk, they are not yet redundancies.
"There is a process ongoing across the organisation and with the staff, and there are parallel discussions continuing with the government.
"The jobs at risk are partly necessitated because the circumstances of Covid-19 have demanded that the trust closes its properties.
"It's highly likely that properties will need to continue to stay closed for some time. There's no doubt that reducing the physical distancing requirement would make a great deal of difference.
"I wouldn't say it is inevitable that there will be job losses. These jobs are at risk, we are in discussion with the government and we are constantly reviewing our financial position.
"We would of course like to minimise job losses, but I can't say any more than that at the moment. The reality is we face a very difficult situation.
"Hindsight is always a useful thing. Everyone has been in the dark without a torch. Could it have been handled differently? Possibly yes.
"I have worked with the cabinet secretary [Fiona Hyslop] for quite some time. I very much respect the support she has given for culture and heritage.
"She has been in that position for some years and the continuity has been really helpful. I understand that she would have found a request for support and a plan that put jobs at risk challenging. I understand the reaction.
"There is a job to do to rebuild public confidence and trust in an organisation which has been forced to declare such a very difficult situation, including a substantial number of jobs at risk.
"There is obviously a job to do within the trust in rebuilding morale and confidence within an organisation which has found itself under attack as a consequence of having to make very difficult decisions.
"It's quite understandable if people are feeling really concerned, both within and outwith the trust, about the future. It's my job to lead a recovery.
"It might sound a strange thing to say in an organisation which has been forced to put so many jobs at risk, but the staff are its most important asset and I care about that deeply."