New lights for Edinburgh to 'save Christmas' after festival cancellation
A campaign to save Christmas for businesses in Edinburgh city centre will see new lights installed in buildings, streets and in a New Town square to try to persuade people to visit struggling hotels, bars and restaurants.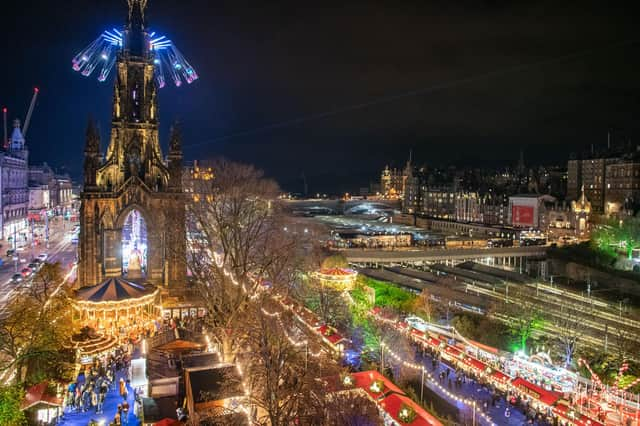 Business group Essential Edinburgh has pledged to ensure the city centre will still have a "magical, festive and exciting feel" despite the cancellation of its money-spinning Christmas festival due to safety fears over large crowds flocking to stalls and other outdoor attractions.
The body has insisted it will be able to create a "welcoming and safe environment" for residents and visitors to the city, despite the absence of the city's hugely-popular Christmas market, which attracted more than 2.6 million people into Princes Street Gardens last year.
This is despite an official announcement from the city council on the cancellation of the Christmas festival in the face of tightening lockdown restrictions, stating: "It is now clear that the best place to experience Edinburgh's Christmas and Hogmanay will be from home."
The Edinburgh Hotels Association has also warned that a "festively-decorated city and attractive hotels, bars and restaurants" would not compensate for the loss of the Christmas festival this year.
The cancellation announcement said Edinburgh would be moving its focus from market stalls, rides and attractions to "celebrating Christmas online" this year.
However, council leader Adam McVey insisted this did not mean Christmas was being cancelled in the city and said businesses would be "offering their usual festive cheer for us to take advantage of".
Chief executive Roddy Smith said: "City centre businesses have worked exceptionally hard to ensure that they operate in a safe and secure manner and can confidently welcome our residents and visitors to their shops, bars, restaurants and hotels.
"Safety is their paramount concern and they've worked wonders to put in place protocols and procedures to allow them to operate effectively during the pandemic.
"During the festive period we will work with partners to put in place measures to ensure the city has a magical, festive and exciting Christmas feel, and will be a welcoming and safe environment.
"Although the main Christmas events will not happen in 2020, the city centre will be ready to welcome residents and visitors in a safe and controlled manner.
"We usually put in place all the Christmas lighting in the New Town area, so this year we will enhance this with additional lighting of buildings and streets and in St Andrew Square.
"Obviously we don't want to generate events that lots of people will congregate together at, so the intention will be to make the city centre very attractive and feeling as festive as we possibly can within the restrictions that are rightly there.
"It will be about trying to create a welcoming and safe environment that is very Christmassy, with plenty for people to look at as they walk through and enjoy what the city centre has to offer.
"We can't replace over two million people and over £110 million worth of spending without the Christmas festival, but we can make the city look attractive, welcoming and, above all, ensure it is a very safe place to visit, shop, eat and drink.
"After six months of the pandemic, the city centre business community needs our residents and visitors to return."
Comments
 0 comments
Want to join the conversation? Please or to comment on this article.