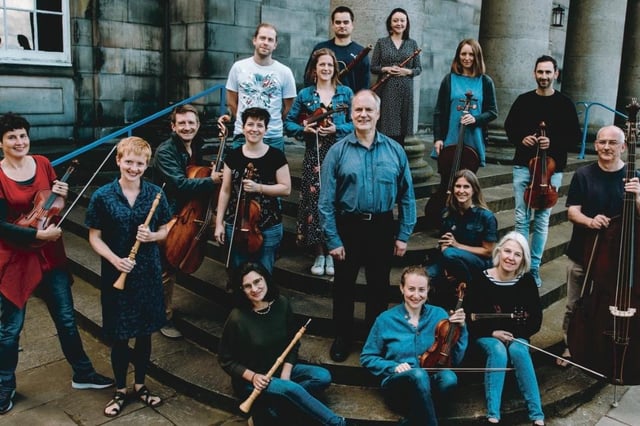 The Dunedin Consort
Just as new shoots begin to emerge in our gardens, so too there are signs of a spring resurgence in the Scottish Classical music world. And for starters, Perth Concert Hall, in collaboration with BBC Radio 3, is to present the Perth Easter Festival of Classical Music.
It won't be to a live audience; that's not permitted yet. What we will experience though, via the screens in our homes, is a welcome reassurance that the Covid shutdown has been, for this venue at least, merely a period of hibernation.
Yes, the modern 1,000-seater Perth hall has played its part in the online orchestral series that have kept music alive since last summer, playing host to the Scottish Chamber Orchestra's larger repertoire offerings. But this new self-generated series boasts an identity of its own, principally through the familiar Perth faces starring in the four daily chamber music programmes (6-9 April) that follow on from the Dunedin Consort's opening St Matthew Passion on 27 March.
James Waters, the venue's creative director for classical music, had been nurturing the idea as far back as last July, when he first mooted a BBC collaboration with Scots-based Radio 3 senior producer Lindsay Pell, which they successfully tested out in September's Lammermuir Festival, where Waters is also co-director.
"One of our shared priorities, especially given the circumstances, was to support Scottish artists," Waters explains. Both he and Pell started planning and secured pianist Steven Osborne for a Perth performance of Messiaen's Quartet for the End of Time, originally scheduled for February. Osborne – a brilliant Messiaen interpreter – will instead open the Easter chamber series (6 April) with soloists from the SCO.
The following day, the SCO link is continued with a clarinet recital by the superlative Maximiliano Martin, accompanied by Perth-born pianist Scott Mitchell in sonatas by Saint-Saëns, Poulenc and Bernstein.
Then, on 8 April, it's the Maxwell Quartet in string quartets by Haydn and Beethoven. "They are turning into a really major quartet, who were cultivating a considerable international career before it got stuffed by Covid," says Waters. Viewers of the Maxwell's recent Scotsman Sessions film will no doubt agree.
The chamber series – broadcast on Radio 3 and released for viewing at 1pm on consecutive days – ends on 9 April with Edinburgh pianist Susan Tomes and members of the RSNO in the quintets for piano and winds by Mozart and Beethoven.
Waters is thrilled also to be hosting the Dunedin Consort, whose December Messiah had to be cancelled when restrictions tightened just before Christmas. John Butt directs a classic Dunedin-style single-voice-to-a-part performance of the St Matthew Passion with English tenor Andrew Tortise as the Evangelist.
To make it all happen, Waters has drawn on the BBC's sound broadcasting expertise coupled with the in-house film production team that has been maintained and developed at Perth Concert Hall, despite the inevitable income loss and redundancies of the past year. "We have all the toys in-house and will combine our own 'as live' filming with the Radio 3 sound feed."
All of which has Waters thinking about how things will be when the green light is eventually given to resume live audience events. "We've all learnt so much during the pandemic, and the challenge will not just be how to nurture audiences back into things that are live, but also how, or whether, we hang on to what we have learnt in terms of online presentation."
He's convinced there is a place for online, especially in relation to audience outreach and education. But he's equally assured that people will come back to the concert hall. "In audience surveys taken when England opened for concerts, over 80 per cent felt satisfied venues had dealt well with things and that they would go back." It's good to see Perth taking its own steps in the right direction.
For full details of the Perth Easter Festival of Classical Music concerts, visit www.horsecross.co.uk. The full chamber series (6-9 April) will be broadcast live on BBC Radio 3
A message from the Editor
Thank you for reading this article. We're more reliant on your support than ever as the shift in consumer habits brought about by coronavirus impacts our advertisers.