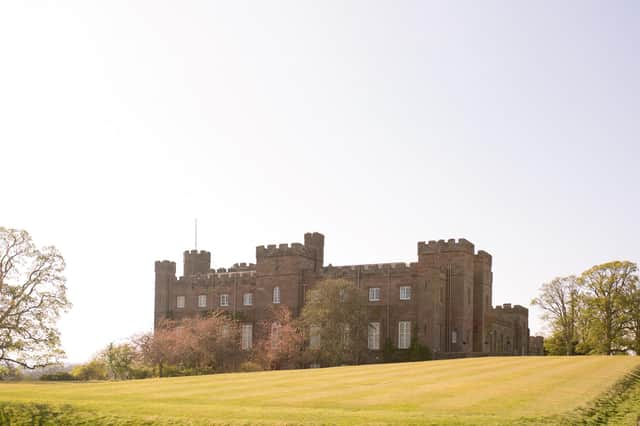 The new Otherlands festival will be held in the grounds of Scone Palace in August. Picture: Alex James-Aylin
Scone Palace, in Perthshire, will play host to the three-day Otherlands event in August.
Biled as "a celebration of music culture deep in mother nature," the new event - which will boast six stages and embrace multiple styles of music - is being created by Edinburgh-based promoters Fly Events.
They have promised to "reignite Scotland's festival landscape" with their new event, which will announce first details of its line-up and launch ticket sales later this month.
Fly already stage dance and electronica festivals in Princes Street Gardens in Edinburgh and in the grounds of Hopetoun House near South Queensferry. Further events are being planned in Ibiza and Amsterdam this year.
Otherlands is the latest addition to an expanded festival calendar in Scotland this summer, when it is hoped that the country will be largely free of restrictions on outdoor festivals in the summer for the first time in three years.
Another promoter, DF Concerts, has already pledged to revived its Connect festival in a yet-to-be announced location, and is also planning to stage a series of new big top concerts at the Royal Highland Showground, at Inglison, near Edinburgh Airport.
Belladrum, HebCelt, Speyfest and Skye Live are among the other festivals due to return this year.
Otherlands wil be staged in the grounds of Scone Palace from 19-21 August. Picture: Alex James-Aylin
The existing 19th century palace at Scone was an upgrade and expansion of a 16th century chapel.
The site, which has a history dating back 2000 years, was used for the coronation of a series of Scottish monarchs, including Robert the Bruce and Charles II.
Scone Palace has already proved a popular destination for the Rewind Festival, which has showcases some of the most popular bands and acts from the 1980s.
The woods and maze at the palace are also home to a Halloween-themed Sprits of Scone event, while an annual "Celebration of Snowdrops" event is held in its grounds each spring.
Scone Palace will host the new Otherlands festival in August.
Fly Events say the new Otherlands event, which will run from 19-21 August, is expected to have a capacity for between 10,000 and 15,000 campers.
An official announcement about Otherlands states: "The founders of Fly, one of Scotland's largest music events, are delighted to introduce a new boutique three-day camping festival.
"This celebration of culture will take place at Scone Palace in August at the home of Scotland's kings & queens."The three-day retreat in Perthshire's idyllic countryside will reignite Scotland's festival landscape combining cutting-edge music, forward-thinking art, boutique glamping and bespoke talks from industry leaders.
"Otherlands will span genres across six stages with the organisers planning to take festivalgoers on a journey into another world."
Fly Events founder Tom Ketley said: "This will be our first ever camping festival and one we have been working towards for the past five years.
"We feel there is a massive void since the death of illustrious Scottish camping festivals and hope that Otherlands will fill this with a new boutique offering.
"It's a truly beautiful site in the heart of Scotland only an hour's drive from Glasgow & Edinburgh, and half an hour away from Dundee.
"Our ethos has always been good music for good people in great locations and Scone Palace ticks all of these boxes."