National Trust branded "hard-nosed" and "harsh" by Scottish Government over plans to axe hundreds of jobs
The country's biggest conservation charity has been branded "harsh" and "hard-nosed" by the Scottish Government after planning to cut more than 400 jobs and close many of its sites in the face of the coronavirus pandemic.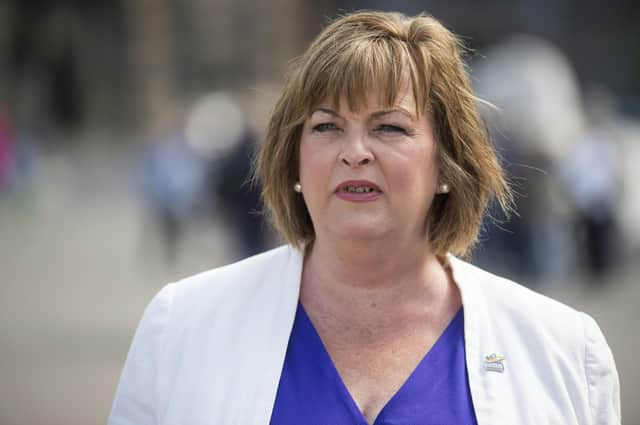 Culture secretary Fiona Hyslop has branded the National Trust for Scotland "harsh" and "hard-nosed" for its handling of the coronavirus pandemic. Picture: John Devlin
Culture secretary Fiona Hyslop described requests for "significant" financial help from the National Trust for Scotland as untenable given the scale of its proposed cuts.
Giving evidence to Holyrood's culture committee, she said it would be "unhelpful" for the tourism industry if NTS, which is proposing to cut 429 jobs from its 751-strong workforce, kept many of its sites closed when lockdown restrictions are eased across the country.
The charity, which is largely funded through memberships and admission fees to its sites, last week revealed that it was facing a £28 million loss due to the impact of the lockdown and social distancing restrictions expected to remain in place over the summer.
Just 27 of its 130 properties are expected to open to the public this year, with a further 18 due to reopen in 2021. The remainder would only open against "once there is a general upturn in the economy and the trust's fortunes."
Ms Hyslop said she was "not impressed" at how NTS had gone about cutting its costs and called for a rethink which would command the support of its workforce and the wider public.
Ms Hyslop, who met with chief executive Simon Skinner and other senior NTS officials last week, said: "The National Trust for Scotland is a very important institution in Scotland. They're also an independent charity, so they make their own decisions.
"They have taken a very harsh approach to tackling this issue. They are issuing notices of redundancy to not just some staff, but more than 400 staff, which is a really significant move.
"They have got particular challenges because they are a charity.
"Everybody is facing hardship in these difficult times. I understand that. But we also expect national institutions to provide leadership."
"Sometimes, if you're such a big organisation and are so important to Scotland, your duty and responsibility is not just to the bottom line of the accounts - it's to our heritage and our people, whether they are visitors or staff.
"When we get to the stage that we want to welcome people back to Scotland we want to welcome them back to places that can provide them with a breadth of scenery and experience. If we open our tourism sector without places for people to go because they are closed that would not be helpful at all.
"I know these are quite harsh words. But when I think of all the experiences that we've all had to live through, the experiences of the health services and those that have sadly died there is a lot of hardship out there.
"People are trying to see and chart a way through a very difficult situation. But I just don't think the National Trust for Scotland has thought about trying to take people with then. They're trying to be quite hard-nosed about what they're doing."
Ms Hyslop drew a contrast with NTS's actions and other organisations in the tourism sector, which had tried to keep their workforces in employment by making full use of the UK Government's job retention scheme.
She added: "What is really concerning is that they (NTS) moved on the redundancy issue even though it was quite clear, although it hadn't quite been announced, that the UK was extending the period of the job retention scheme.
"They are asking for a significant amount of funding from the Scottish Government to be spent, if we had it, on a number of different areas.
"I have made clear to them that I don't think it is all tenable for the Scottish Government to provide funding to them at a time that they want to continue to make their staff redundant on the scale that they are talking about.
"I will try to work with them and try to come up with a solution, but I have not been impressed about how they've gone about this and I've made that clear to them."
A spokesman for NTS said: ""We are aware of the cabinet secretary's comments and, while we appreciate her commitment to continue to work with us as we try to navigate our way through the biggest crisis in our history, we do hope to address her remarks as we think some of them were unfair.
"These are steps we never wanted to take, reacting to a situation that is not of our making.
"As an independent charity, we have had to urgently apply the only options that are open to us in the face of property closures and loss of income, including reductions in spending, cancelling or postponing projects, seeking donations and, regrettably, proposing redundancies.
"This unwanted choice is not just about addressing the immediate crisis but ensuring the trust is on a viable scale and footing to survive the pandemic's economic legacy that may mean a loss of 30 per cent of our income next year.
"This is not so much being 'hard-nosed' as having to deal with an unprecedented situation that puts our survival and many more jobs dependent on our future in the balance.
"We know how difficult it is for all of our people and the people who love our places.
"If we are to continue fulfilling our responsibility to protect Scotland's heritage, unfortunately, we do need to think about the bottom line - it is not an either/or option.
"Unlike Historic Environment Scotland, we do not enjoy the cushion of substantial public funds and instead have to rely on our own reserves, which are likely to be wiped out as a result of the pandemic unless we take action.
"The situation is fast-changing and we hope there is scope, throughout the consultation process, to minimise redundancies and closures, if at all possible."
Want to join the conversation? Please or to comment on this article.