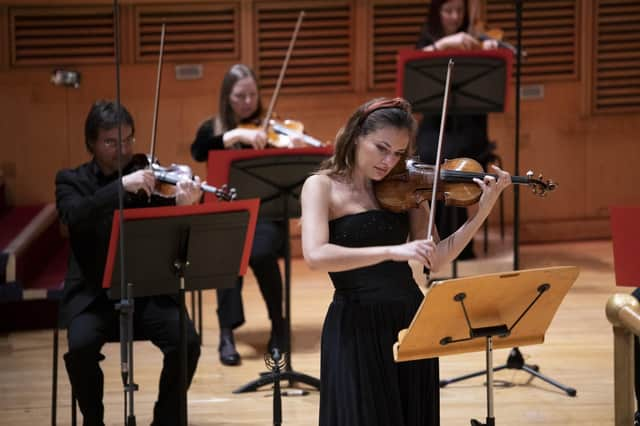 Nicola Benedetti performing Szymanowski's Violin Concerto No1 with the Royal Scottish National Orchestra PIC: Martin Shields
Despite the welcome optimism surrounding recent summer festival announcements, who knows when it will be truly back to normal for live concerts? August's largely outdoor Edinburgh International Festival, and before that a promise of socially-distanced indoor listening at Music at Paxton (16-25 July), are certainly sending out bullish signals. We'll learn soon what other summer festivals and beyond have in mind.
Meanwhile, the newly-acquired digital skills of the performing arts companies are keeping music alive, albeit via our computer screens. The nearest to a genuine festival experience came earlier this month with Perth Concert Hall's Easter Festival of Classical Music, featuring four consecutive days of top-quality chamber music imaginatively put together in association with BBC Radio 3 (daily lunchtime broadcasts coinciding with successive pay-to-view film releases) by the venue's creative director for classical music, James Waters.
It began with pianist Steven Osborne and Scottish Chamber Orchestra players Maria Włoszczowska (violin), Maximiliano Martin (clarinet) and Philip Higham (cello) in Messiaen's Quartet for the End of Time (*****). Written and premiered while the composer was a prisoner of war in 1941, it's a work that embraces the inner and outer extremes of the spiritual experience, also the power of music to transcend earthly persecution.
This knock-out performance recognised as much through its expressive and intellectual thrust, Osborne's sturdy presence – ecstatic mystery harnessed by hard-focussed discipline – echoed by the profound empathy and dazzling virtuosity of his colleagues.
One of them, Maximiliano Martin, took centre stage the following day with pianist Scott Mitchell in a cracking cocktail of clarinet repertoire (*****), some familiar, some not. The cut and thrust of Poulenc's Clarinet Sonata sat well with the less edgy panache of Saint-Saëns' Sonata, the programme's French fizz further emphasised in Chausson's charismatic Andante and Allegro. The final work was all-American, Leonard Bernstein's youthful Clarinet Sonata. With some typical jazz-elements to toy with, Martin and Scott went out on a high.
As Scotland's leading string quartet, the Maxwell Quartet are also riding high. For their Perth programme (*****) they chose one of Haydn's Op 74 quartets – No 3, the "Rider" – which featured on their excellent new album and is notable, as the title suggests, for its galloping finale. Besides sheer precision and sparkle, there was a distinct hint of mischief in this performance. The players' visibly relaxed countenances played their part. Beethoven's "Harp" Quartet, also Op 74, further proved how remarkably this ensemble has developed, as capable of deep, precise thought as in giving us something to smile about.
The final Perth date went to Edinburgh pianist Susan Tomes and wind principals of the Royal Scottish National Orchestra (****). The coupling of Beethoven and Mozart was a rare opportunity to hear their respective Quintets for piano and wind instruments. Coinciding with the announcement that the Duke of Edinburgh had died, the Radio 3 element of this concert was consequently dropped, but the filmed version appeared as planned.
These are unique and brilliant works, the merits of which were keenly addressed in thoughtfully responsive, if occasionally understated, performances. The uncut false start of the Beethoven finale, while giving accidental spontaneity to the non-live reality, was presumably an editorial oversight.
Away from Perth, the opening of the RSNO's summer digital series (****), and within that the first in its Polska Scotland mini-series, marked the orchestra's return to the main Glasgow Royal Concert Hall auditorium. Thomas Søndergård, with consequential larger forces to work with, conducted a substantial all-Polish programme of Weinberg, Szymanowski and Panufnik.
The star attraction was Nicola Benedetti, returning to the work that secured her 2004 BBC Young Musician success, Szymanowski's Violin Concerto No 1, played with searing passion, poetic presence and the added maturity 17 years brings. But it was the awesome theatre of Panufnik's Sinfonia Sacra that was the most thrilling, a potent sign that access to the visceral thrill of the full symphony orchestra may not to too far away.
A message from the Editor:
Thank you for reading this article. We're more reliant on your support than ever as the shift in consumer habits brought about by coronavirus impacts our advertisers.