Music review: Young Fathers, Academy, Glasgow
When they play live, Young Fathers' appeal goes straight to the gut, the feet, or both, writes Fiona Shepherd
Young Fathers, Academy, Glasgow *****
Callum Easter is a soul man – maybe not conventionally so in his floor-length raincoat and diffident demeanour but the blues is at the heart of much of what he produces and his opening set for his old muckers Young Fathers was an absorbing showcase of his restless adoption of instruments (keyboards, guitar, drums, harmonica… we lost count) and musical styles, encompassing distorted rockabilly, fuzzed-up, low-slung rock 'n' roll and eerie dub reggae like a Caledonian The The.
Easter exudes nonchalant charisma and can hold his own solo but, on this occasion, he had instrumental company and soulful vocal support, the latter coming from the ladies of the Leith Congregational Choir, aka sisters Pauline and Jacqui Cuff, once of Hippychick hitmakers Soho.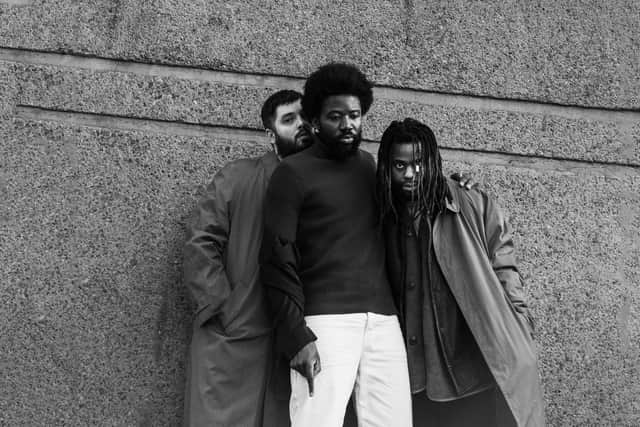 Easter was back again playing multiple instruments for the headliners, including some weird structure which looked like a cross between a theremin and a gibbet.
Young Fathers' music certainly features esoteric elements with many "how do they make that sound?" moments but when they play live, the appeal goes straight to the gut, the feet, or both.
Their utterly distinctive take on pop music ranged widely from the party-starting mantra of Get Up via the tribal ululation of Queen Is Dead and propulsive electro soul of Wow to the guttural hip hop of Old Rock n Roll and bassy catharsis of In My View, always crowned with the sinewy vocal interplay and perpetual motion of core trio Ally Massaquoi, Kayus Bankole and Graham "G" Hastings.
They were also joined by two punk soul sisters who gleefully enhanced the unfettered voodoo spirit of proceedings, while long-standing drummer Steven Morrison crashed, banged and walloped with ever greater intensity, right up to the exultant celebration of Shame and the hectic climax Toy, before signing off with the time-honoured trashing of the drumkit. Their job here was done.