Music review: The Prodigy, Hydro, Glasgow
Even without the gonzo presence of the late Keith Flint, The Prodigy still an irresistible blend of the most energised music genres of the past 40 years, writes Fiona Shepherd
A huge, masked, Banksy-like mannequin stood like a sentinel in the crowd, a purely decorative flourish to The Prodigy's Army of the Ants tour – until, that is, laser beams shot out of its eyes, etching Keith Flint's horn-haired silhouette on to the stage backdrop. This was how to pay tribute to a fallen member without interrupting the feral flow of their rock/rave collision, spelling pure catharsis for their all-ages audiences. The song was Firestarter, Flint's moment recalibrated using a sample of his vocal then accelerated to nosebleed speed.
Mainman/composer Liam Howlett thrives on messing with his own material but rarely to its detriment. Middle-aged punks, as they now are, they don't hang around, typically delivering a terse set. But there was a lot of material to fit in, arranged as a hectic electro suite, from the visceral punk punch of Breathe, with rapper/shouter/vibe controller Maxim practically growling, via the vicious rave metal of Omen to the tight-but-loose drumming of a reworked Voodoo People.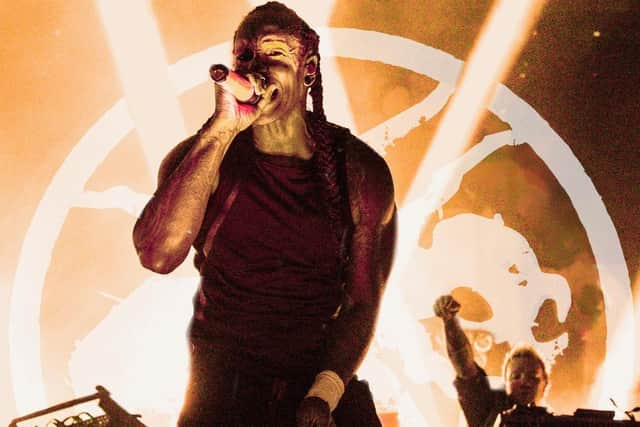 Flint's gonzo presence was missed but this was a tooled-up arena extravaganza, creating a chemical reaction in the crowd, many of whom were younger than the techno funk of Everybody in the Place, the helium banger No Good (Start The Dance) and raging Their Law. The latter track remains good for the ages – a "what you got?" rebel tune – while Smack My Bitch Up is a problematic counterpoint, an aural slap in the face. As another anthem attests, they have the poison and the remedy – an irresistible blend of the most energised music genres of the past 40 years.
The main set was dispensed in under an hour but there was outstanding business to settle in the Dalek bark of Take Me to the Hospital, rave arpeggios of We Live Forever and the loose skank/dizzy fairground spin of Out of Space.