Music review: The Killers, Royal Highland Showgrounds, Ingliston
The Killers mostly stuck to their usual winning formula at the Royal Highland Showgrounds, but they also delivered one or two surprises, writes David Pollock
The Killers, Royal Highland Showgrounds, Ingliston ****
The Killers are a rock group who mainly have one button to press, and during their live shows they push it multiple times, each time hitting the mark, but rarely offering up the unexpected. Yet there was some of that as well, at this huge, festival-scale outdoor show on the site of last weekend's Connect festival.
Singer Brandon Flowers emanated the same megawatt air of televangelist assurance broadcast during his guest spot with Elton John at Glastonbury, and his voice remains this band's greatest instrument. Like U2's Bono, it's so overwhelmingly rich in tone, character and suitability for amplification on this scale that every person in the packed Royal Highland Showgrounds might have felt a personal connection.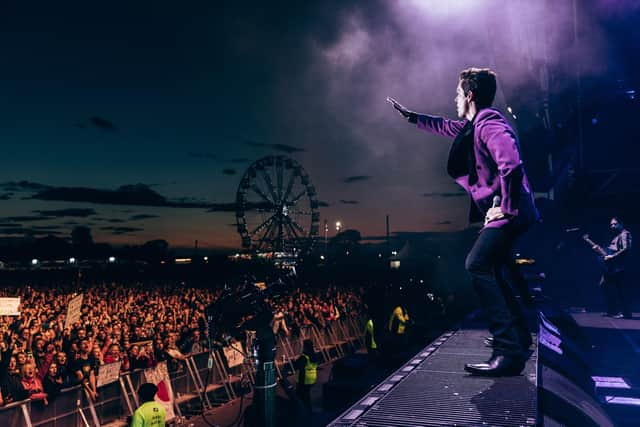 In this context, the Killers' occasionally make-do lyricism is easier to ignore, with the big, pealing guitar melodies and vocal accuracy of opener Mr Brightside and liberally dished-out hits Smile Like You Mean It, Human, Somebody Told Me and Read My Mind all exciting the crowd on a massive scale.
Their other songs follow a formula, but here there were subtle departures into, for example, the Springsteenesque Runaway Horses and the world-weary breakdown and recovery of Rut and Caution, in medley, while the main set's closing song All These Things That I've Done remains their bona fide classic. It skips from pristine chorus to verse with a speedy assurance that doesn't hang around for its audience to be impressed.
Then there were the surprises; the commemoration of the band's first appearance in Edinburgh with a perfect cover of the Waterboys' The Whole of the Moon, and the encore appearance of support act Johnny Marr for another cover, the Smiths' This Charming Man, and the Killers' own When You Were Young. Predictability was present where needed, yet thrown out the window where it might help the audience feel there was something unique about this show.