Music review: sound festival, various venues, Aberdeen
This year's sound festival of contemporary music was full of pioneering, outward-looking passion, writes David Kettle
sound festival, various venues, Aberdeen ****
You've got to hand it to Aberdeen's sound festival of contemporary music. Even across a single day, such is the organisers' passion for sharing new sounds that there was more than enough to captivate, challenge and entertain locals and visitors alike – and to get them to brave the city's second disruptive storm in two weeks to satisfy their sonic curiosity.
A 10am start meant a new work by established composer and sound artist Kathy Hinde. The bird-inspired FLOCK was intended for four- to eight-year-olds, and clearly hit its mark with toddlers and older kids enraptured by Hinde's fascinating musical contraptions – a swanee whistle harmonium, perhaps, or a wall of hanging piping that expanded to produce sighing accordion tones. Three musicians from the Red Note Ensemble – flautist Ruth Morley, cellist Duncan Strachan and percussionist Tom Hunter – were on hand to bring Hinde's gentle, evocative score to vivid life. But there was plenty for grown-ups to marvel at, too, in Hinde's playpen of unexpected sonic delights – such that the chance to get involved was lapped up. It might have lasted barely half an hour – just right for young attention spans – but FLOCK packed in charm, delight and a nicely developing exploration of birdsong and flight.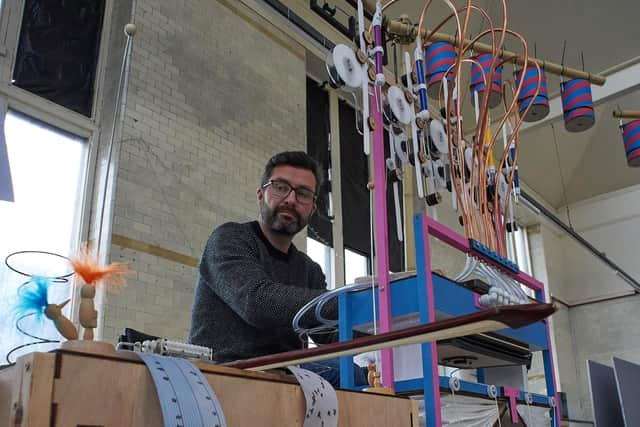 More serious stuff two hours later, with the world premiere of Christopher Fox's Earth & Sea from the GBSR Duo of percussionist George Barton and pianist Siwan Rhys. It proved a captivating, evocative experience, with sonic boundaries between the instruments perpetually blurred, as low piano rumbles merged with gently tolling gongs, for example, or chiming harmonies passed between keyboard and vibraphone, all in the aim of representing the processes of the natural world. And it proved a revealing counterpart to the earlier Duo by Barbara Monk Feldman, whose barely heard piano harmonies and bell tones conjured a world of quiet magic and sonic wonder, in deeply sensitive, considered performances.
Two more hours later, and it was down the road to the Aberdeen Art Gallery, where the local Con Anima Chamber Choir had requisitioned the spacious atrium for a brief concert that shone a light on sound's crucial work supporting and encouraging young composers. In this case, crack choral conductor and composer James Weeks had worked with three young Scottish-based creators on new pieces for choir. All were memorable and strongly conceived, but Laura Heneghan's Wordsworth-inspired Sum and Substance, in particular, made vivid use of the chorus's sonic potential in a compelling and convincing musical argument.
Amid the austere interior of ancient St Machar's Cathedral up in Old Aberdeen, the Pneuma duo of flautist Richard Craig and organist Michael Bonaventure later gave a wide-ranging – and, truth be told, rather over-stuffed – recital bookended by rich and witty realisations of star-sign melodies from Stockhausen's classic Tierkreis. Among the concert's wealth of musical styles and approaches, the dense, vividly coloured and restlessly flickering harmonies of Huw Morgan's monumental embrace stood out as music that was genuinely memorable – patience-testing in its lack of development, perhaps, but a timespan of sonic colour you could really immerse yourself in.
To end the day, a trio of solo vocal UK premieres by Irish women composers from exceptional vocalist Elizabeth Hilliard that – with its movement, lighting and backdrop of electronic sound – felt more like music theatre. Ailís Ní Ríain's brittle Refuse to be Wrecked might have looked back a little too directly to Berio's vocal avant-garderie of the 60s and 70s, but Siobhán Cleary conjured strange sonic magic in her myth-inspired Sleep Song, with Hilliard's voice circling ever back on itself in its multi-layered, rapturous incantations. The concluding Great Women by Gráinne Mulvey celebrated the achievements of strong Irish females with singing and speaking of enormous atmosphere, complexity and warmth. And it seemed to encapsulate all the pioneering, outward-looking passion that the sound festival so keenly displays.