Music review: Shania Twain, Hydro, Glasgow
Shania Twain's rendition of That Don't Impress Me Much impressed. The rest? Not so much. Review by Fiona Shepherd
Shania Twain, Hydro, Glasgow ***
Welcome to the Shania Twain Town theme park – one powered by the blinking lights from thousands of novelty Stetsons and soundtracked by the saloon jukebox against a backdrop of maximalist animated visuals, where the main attraction is wheeled to the stage in a pop-up trolley cart and selfie time with the star is short but sweet – especially for a lone fan called Matty, who was called up from the Glasgow crowd to duet haltingly with his shero in a stage-managed-spontaneous moment.
Twain looked stunning in her customised denim mini-dress – originally an oversized denim jacket present from a fan until she "Shania'd it". Later in the set, a quarter of a century fell away as she donned the iconic leopardskin coat-dress from the That Don't Impress Me Much video. That impressed us much.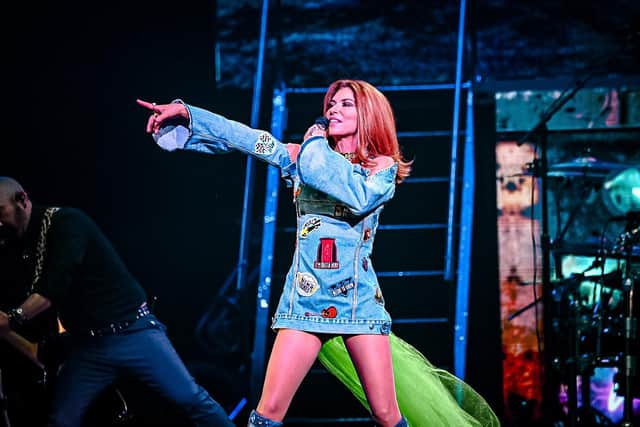 What impressed less was the music – mainly production line pop/rock which might once have been forged in a country spirit only to be drowned in lashings of commercial production, with hints of Taylor Swift, The Beatles and Motown occasionally floating to the surface.
Her two game dancers/backing singers – including Paul Clark from these here parts – provided the energy and enthusiasm with Twain the relatively static heart of proceedings even when delivering Giddy Up! – a typical Shania exclamatory title for her "cheer up song" which manifested as a generic pop linedance with a dash of Uptown Funk. Next, a Queen-ly beat led into the honky tonking Any Man Of Mine, while the "s***kicker" Whose Bed Have Your Boots Been Under? was a lost Loretta Lynn title set to a cod ska rhythm with a dash of Bay City Rollers bubblegum.
A medley of older, (even) blander tunes were dressed up as the Shania party playlist but all roads led to that leopardskin encore and the honking riff of Man! I Feel Like A Woman!, such fun that it merited two exclamation marks.