Music review: SCO & Ryan Bancroft, Queen's Hall, Edinburgh
Errollyn Wallen's new composition Dances for Orchestra drew plenty of enthusiasm from the SCO players, although it might make a stronger impact as the basis for some actual choreography, writes David Kettle
SCO & Ryan Bancroft, Queen's Hall, Edinburgh ****
You'd think orchestras might speak to each other, even compare plans. Just six days after a bracing Copland Appalachian Spring from the RSNO came the same piece all over again, this time from the Scottish Chamber Orchestra and conductor Ryan Bancroft. I say the same piece: actually, it felt very different. For a start, Bancroft delivered the full ballet score, complete with darker episodes in which the American Civil War makes its presence felt, omitted in the RSNO's suite. And the SCO brought a touching fragility and vulnerability to Copland's wide-open music, its chamber scale far closer to the composer's original intimate scoring for just 13 instruments. Most importantly, Bancroft managed a remarkable balance between grand architecture and telling detail: there was a glorious inevitability to his vision across the score as a whole, but plenty of moments, too, to marvel at his insights and articulations in particular moments. The SCO players lapped it up: principal flautist André Cebrián and principal clarinet Maximiliano Martín, in particular, contributed eloquently to Copland's Edenic evocations.
There was even more insight from Bancroft, in fact, in the concert's opener. Ives's Three Places in New England is a dense, elusive piece, but a gloriously vivid one too, and Bancroft clearly knew every one of its twists, turns and dead ends. It was a high-definition, strikingly etched account, raucous verging on the unhinged in the middle movement's marching band tunes, but with a winning density and earthiness to the closing romantic riverside stroll.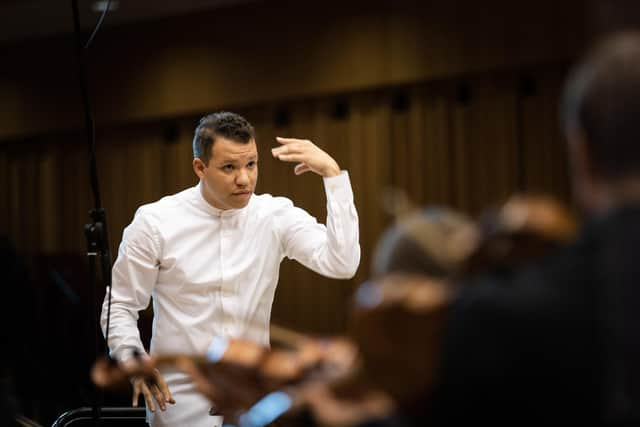 In between came a new SCO co-commission, receiving its world premiere. Errollyn Wallen's Dances for Orchestra began in tripping primary colours before exploring darker, subtler hues across its sequence of ten or so dance episodes. It was an entertaining offering, deftly scored, and drew plenty of enthusiasm from the SCO players, but might make a stronger impact as the basis for some actual choreography.