Music review: SCO & Maxim Emelyanychev, Queen's Hall, Edinburgh
Conductor Maxim Emelyanychev may have set the SCO up in a highly unconventional formation for this Queen's Hall concert, but there was method in the apparent madness, writes David Kettle
SCO & Maxim Emelyanychev, Queen's Hall, Edinburgh ****
"Expect the unexpected" feels like a bit of a cliché when describing the SCO's vibrant, volatile principal conductor Maxim Emelyanychev. Their concert of Mozart and Schubert – with a bit of MacMillan thrown in for good measure – looked conventional enough. But naturally, it was never going to be quite that straightforward. Even before the music began, Emelyanychev had divided the orchestra across four levels of seating, players arranged idiosyncratically with woodwind swapped between forward and back, basses and cellos separated left and right, and a fortepiano plonked right in the middle of it all (not out front as you might expect).
Once the music started, though, it all made sense – and, more importantly, it all served a crucial purpose. Emelyanychev's opening – the overture from Mozart's The Magic Flute – was a near-miracle of balance and energy, sounds carefully layered across his unconventionally spaced musicians to make Mozart's harmonies glow vividly, and his intricate counterpoint bustle by wittily. There were the same sonic marvels in Schubert's "Unfinished" Symphony, which Emelyanychev took quite carefully, though its first movement growled with threat and unpredictability in his passionate reading. He beautifully judged the balance between carefree charm and impending doom in the second movement, too.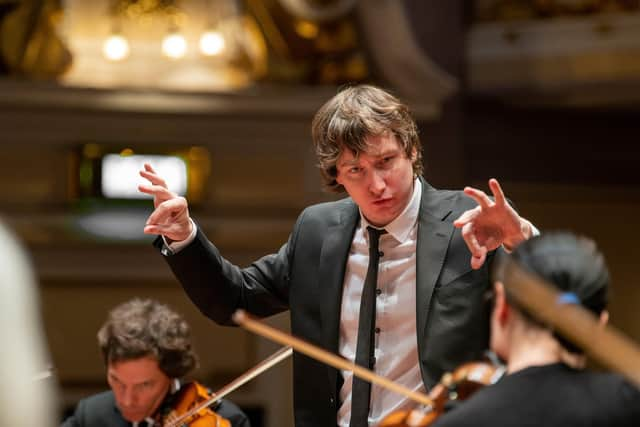 That centrally plonked fortepiano came entirely into its own in Emelyanychev's unconventional closer, Mozart's Piano Concerto No. 22, with himself as soloist. It was a quiet instrument, but his playing – by turns delicate and percussively brittle – captured the attention of the musicians who surrounded him on all sides, resulting in a surprisingly intimate account that invited your attention, rather than demanding to be heard. Nonetheless, Emelyanychev gave a thrillingly energetic, lithe account, full of energy and dashing showmanship. Talking of which, MacMillan's brief, football-inspired Eleven, getting its first UK performance, dashed by in a whirlwind of riotous activity, not to mention quite a bit of "Auld Lang Syne", and almost brought the house down.