Music review: RSNO & Ray Chen, Usher Hall, Edinburgh
Not even a fire alarm and evacuation could dampen the fiery emotions in this performance from Ray Chen and the RSNO, writes David Kettle
Ray Chen could fill the Usher Hall with the power of his personality alone. And the Taiwanese-Australian violinist did just that, in fact, on Friday night, with the Sibelius Violin Concerto he performed with the Royal Scottish National Orchestra.
It wasn't just Chen's musical personality, either – though that was strikingly bold and confident on its own, attacking Sibelius's writing with a white-hot intensity and a wide, rapid vibrato that bordered at times on a tremolo. There was also his warm engagement with the audience, most evident in his self-deprecating introduction to his encore, a blast through Paganini's fiendish 21st Caprice.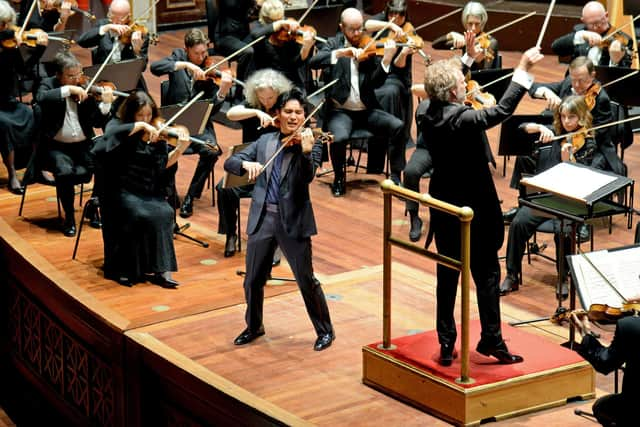 Impressive doesn't even begin to describe it. But it was exhausting, too – not just in keeping up with Chen's hot-blooded focus, but also in his unwaveringly fierce projection, his big sound, his high volume. The lyrical opening of his Paganini encore showed a performer more attuned to subtlety, light and shade, and a far wider range of attack and articulation – more of those qualities in his Sibelius might have provided a performance with more probing insights, if less overt showmanship.
The RSNO was on dramatic form, too, in a wonderfully supple, richly coloured account under Thomas Søndergård. Their opener – Lotta Wennäskoski's Saariaho-esque Of Footprints And Light – was all about glittering, scintillating hues, and delivered with a nimble sense of fantasy that captured the music's unpredictable swerves in mood and direction.
To close, Søndergård launched a beautifully lightfooted Dvořák Sixth Symphony, rich and smooth in the first movement's grandeur, and with an appropriately furious energy whirling through the third movement "furiant" dance. A fire alarm and evacuation interrupted Søndergård's buoyant bustle of a finale, but it couldn't dampen the evening's fiery emotions.