Philip Selway, Oran Mor, Glasgow ***
"How do I look with bass?" asked Philip Selway with the contented satisfaction of a man let loose in the musical playpen. Selway is best known as Radiohead's drummer but he confessed to some bass envy of his brother-in-rhythm Colin Greenwood. His solo career, comprising three solo albums and a film soundtrack, has been his opportunity to step front and centre, showcase his multi-instrumental skills and helm his own band, comprising Quinta on strings, synths and saw, drummer and percussionist Chris Vatalaro and Portishead's Adrian Utley adding the special sonic sauce to his thoughtful songs.
Selway's music is stripped back then built up, with clear singer/songwriter roots which respond as well to various eerie treatments as to a more straightforward indie pop arrangement. His voice teeters on the cusp of fragility but was still capable of conveying a soupcon of the plaintive drama of Radiohead's piano ballads or the soft dreamy prog pop of Check for Signs of Life from new album Strange Dance.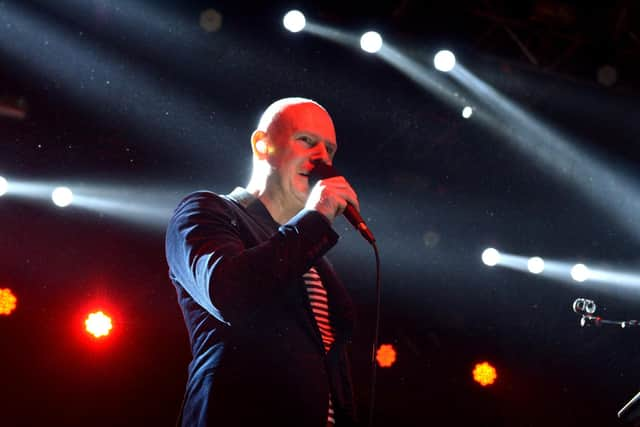 The title track sailed a bit further into experimental waters, with Selway's exposed vocal accompanied by violin drone and the slap of percussion, while contrasting companion piece Make It Go Away drew on psych folk influences and Don't Go Now was beautifully arranged for acoustic guitar and singing saw. Quinta controlled the saw masterfully on the siren call of Let Me Go.
There was little of the sturm und drang of Radiohead's music and much more of a soothing atmosphere generated by the personable Selway who hailed the "very civilized" cabaret set-up of the venue. However, Picking Up Pieces picked up the pace to a light indie pop jog while The Heart of It All painted on a grander scale powered by a big(ger) drum sound.