It's all a question of perspective. As 6Music presenter Matt Everitt reeled off Lewis Capaldi's head-spinning sales stats in his introduction to this album launch Q&A and acoustic show, he described the second of two sold-out events in this 1,000 capacity room as "intimate". Capaldi's self-effacing wit and the home turf setting added to the personable atmosphere and the game decision to take questions from unamplified audience members in such a large room only enhanced the come-as-you-are tone. One attendee made sure their query made the cut by penning it on a pair of pants and tossing them onto the stage.
Another perspective: this was essentially a local lad done good talking about his just-released second album Broken By Desire To Be Heavenly Sent. However, this album is sure to top the charts like its predecessor – "unless any c*** dies," Capaldi quipped.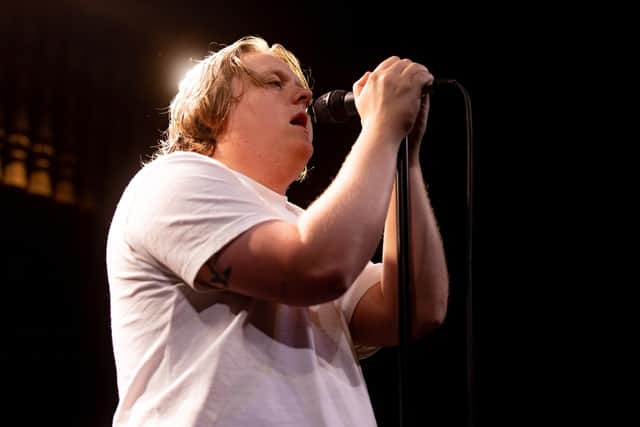 Punctuated by squeals and heckles from the crowd, he went on to talk about his first paying gig, the difficulties of writing in lockdown isolation, his aversion to feet… but arguably the greatest revelation in the interrogatory portion of proceedings was his realisation, through the making of his hit (of course) Netflix documentary How I'm Feeling Now, that "just because I suffer doesn't make me special". Now that's perspective – simple, obvious when you know and encouraging to others which, behind the obfuscating humour, is what this kind artist strives to be.
The second half of the event was a stripped-back mini-gig with accompaniment from Aidan Halliday on piano. They began with Capaldi's favourite new album track The Pretender – and then began again when he tripped over the lyrics about his imposter syndrome. He plucked Leave Me Slowly from a torrent of audience requests – sadly sans Eighties power ballad arrangement – and helmed singalongs to the self-flagellating Wish You the Best and Someone You Loved to general delight.