Music review: Le Tigre, Barrowland, Glasgow
Back after a lengthy hiatus, Le Tigre still offer the same winning recipe of punk erudition boiled down to catchy cheerleader chants, writes Fiona Shepherd
Kathleen Hanna, charismatic frontwoman of Le Tigre and figurehead for successive generations of punk activists, has a neat way of summing up her band's ethos. "You've got to party for your right to fight," she declared to this gathering of the outsider tribes, in a playful nod to her husband Ad Rock's band The Beastie Boys. Glasgow had already received the memo and the customary "here we f***ng go" chant was raised right from the start by an unlikely audience of rabble-rousers primed to greet their shero on the right side of a lengthy live hiatus.
The song remains the same: Le Tigre offered a message with a groove, punk erudition boiled down to catchy cheerleader chants, helpfully displayed as supertitles throughout the gig so we could all join in the pithy discourse on What's Yr Take On Cassavetes?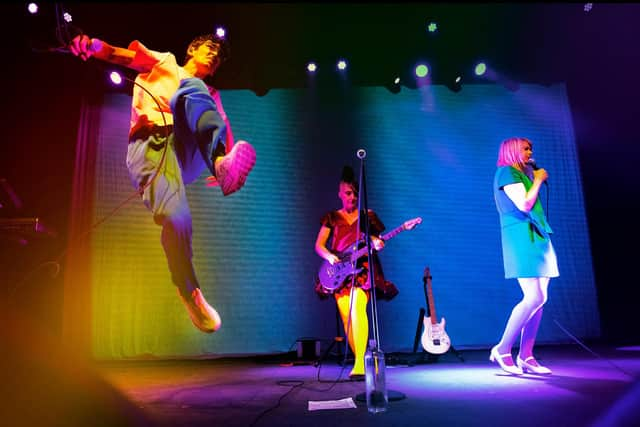 Hanna was flanked by her equally energetic and stylish lieutenants Johanna Fateman and JD Samson. Instrument swapping, sharing of lead vocals and mutual support was the order of the gig, which was embellished with formation dance routines, edgy indie glamour and even a mid-set costume change break with colourful frills ditched for checkerboard prints.
The electro bubblegum punk of The The Empty set the tinny/shouty tone, while the catchy rattle of My My Metrocard, grungey punk swing of Mediocrity Rules and fuzz surf rocker Shred A all offered catchy returns. Debut single Hot Topic, first released in 1999, remains a fresh highlight, though the gonzo rock'n'roll of Keep On Livin' packed an emotional punch in light of Hanna's long wrangle with misdiagnosed Lyme disease.
Pausing only to pay tribute to local heroes The Pastels and to mock mop up the stage, Hanna's final move was to unleash the skipping rope – her take on Grace Jones' hula hoop? – as the cute climax to indie punk anthem Deceptacon.