Music review: KT Tunstall, Usher Hall, Edinburgh
KT Tunstall's first ever Usher Hall show was a capable blend of the nostalgic and the new, writes David Pollock
Incredibly, for someone who began her lengthy and successful career busking on the streets of Edinburgh, KT Tunstall has never played or attended a concert in the Usher Hall. The experience seemed to make an impression. "This is the specialest [sic] one," she said, comparing it to the other shows on her current tour. "A hometown gig and you bought all the tickets!"
In the two decades and seven albums since her breakthrough, Tunstall inspires as much devotion as ever among her sizeable hardcore of fans. Her songs can be gentle and soothingly middle-of-the-road – the audience were invited to create their own phone-light backdrop for The Other Side of the World – but she also explores interesting, diverse sounds.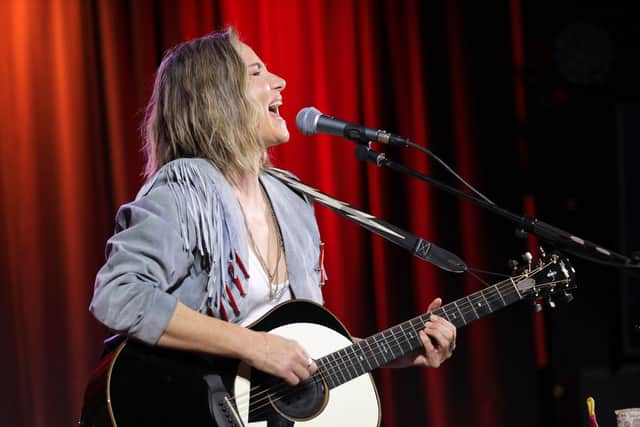 I am the Pilot rode on an electro-analogue pulse, and Hold On absorbed a bit of pop and rock classicism as it morphed into the Bangles' Walk Like an Egyptian and then Led Zeppelin's Whole Lotta Love. She's capable and confident enough to let these influences in and make them her own without cheapening them, while there was also an overt nod to Stevie Nicks on Demigod and Annie Lennox's Eurythmics as Black Horse and the Cherry Tree became Sweet Dreams (Are Made of This).
With her trademark loop pedal "having a holiday at home in the garage," Black Horse was played fully live by Tunstall and her compact but extremely skilled band, touring Gorillaz bassist Seye Adelekan and sometime Razorlight drummer Andy Burrows. Are humans, she wanted to know, better than machines? Apparently so.
As ever, her stage presence was built on easy conversational warmth, whether laughing about being mistaken for Amy Macdonald on a plane, sneering at the record exec who told her many years ago to write songs with fewer chords or teasing the audience that inevitable closer Suddenly I See wasn't on its way after all.
Yet amid a perfectly crowd-pleasing couple of hours, and a moment of nostalgia when Paper Aeroplanes was dedicated to old friend and muse King Creosote, she played last year's album Nut in its entirety. The balance of the nostalgic and the new is held capably in her hands.