Music review: King Creosote, Queen's Hall, Edinburgh
Based on the audience response to this Edinburgh show, songs from King Creosote's new record appear to have become fan favourites less than 24 hours after its release, writes David Pollock
"The early lot got that one-and-a-half times," noted Kenny Anderson, aka King Creosote, after he and his three-piece band had made it through Blue Marbled Elm Trees, an emotional highlight of his new record I DES, in which he imagines his own funeral while expressing his satisfaction with life so far. "It was all there," he said. "It was all wrong."
The "early lot" he's referring to were at the afternoon show he'd already performed at the Queen's Hall, as part of a touring long weekend of shows to introduce I DES to the public. It's Anderson's first album since Astronaut Meets Appleman in 2016, and there was a sense of the band settling into playing it in front of a large audience here.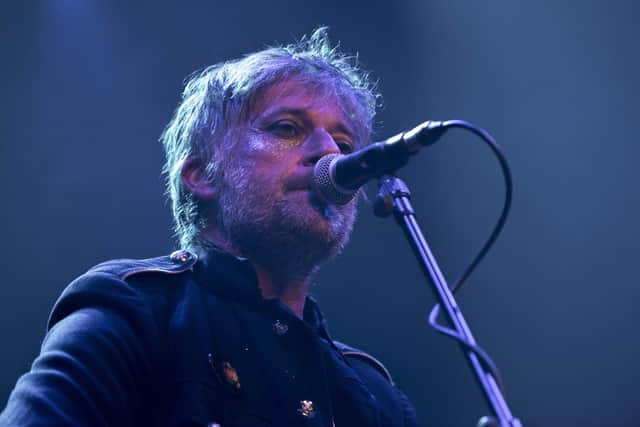 Not that there were any obvious cracks in a set which largely drew from the new material, with I DES acting at once as a glistening return to – or rather, the maintenance of – Anderson's pristine emotive form as an indie-folk songwriter, and an exploration of his recent fascination with the synthesiser-based sound of German "kosmiche" rock of the 1970s.
Anderson is one of those artists who enjoys not a slim "greatest hits" repertoire which is expected at every show, but a richness and depth throughout all his music, which allows the flexibility to explore his catalogue.
Plus, songs from the new record appear to have become fan favourites less than 24 hours after its release. These included Dust, with its clicking, record-return electronics and frosty funereal beat, the quietly foreboding It's Sin and Walter De La Nightmare, and the quirkily upbeat gabba-folk of Susie Mullen. The title track Ides was sung in a heart-trembling falsetto which drew audible gasps of delight from the audience, and Please Come Back I Will Listen provided an epic ending to the main set.
The latter was sung in duet with Ziggy "Lomond" Campbell, with co-producer and I DES's titular inspiration Derek O'Neill returning alone to support Anderson on an understated encore featuring Cod Liver Oil and The Orange Juice (the only audience request granted) and John Taylor's Month Away. It felt so very good to hear him back.