Preceding the release this summer of their greatest-hits-reworked orchestral record Be Opened By The Wonderful, this show gave the James back catalogue an outing in grand fashion – at full complement there were 36 musicians and singers onstage, including an orchestra and a gospel choir.
It's been 41 years since the Manchester-founded band first came together, and the new record will be their 17th in that time. Throughout this two-set, 26-song show, they were able to draw in both anthemic hits and the kind of B-side obscurism which even a reasonably dedicated fan might have to check their old album sleeves to remind themselves of.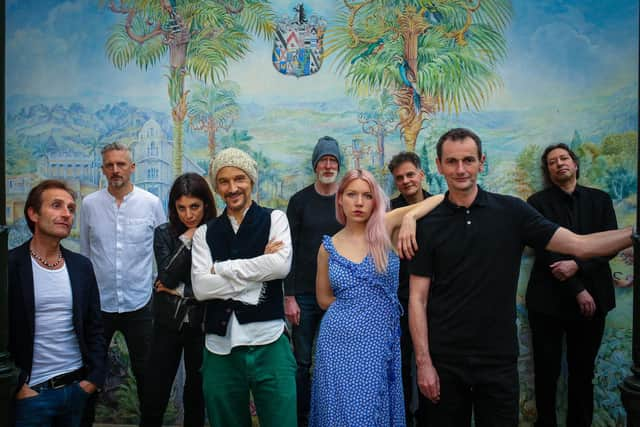 "We assume you're somewhat familiar with our music," noted singer Tim Booth before The Lake. "These are the deep cuts." He's still in impressively fine voice and remains a typically dervish-like dancer at the age of 63 – overall a magnetic live presence.
He made his entrance through the stall aisles, singing along with the opening Magic Bus, and delivered Say Something while standing on a chair amid the crowd and squeezing the hands of grateful listeners. A band-requested embargo on mobile phones was well-observed, and he thanked the audience for allowing such "focus" in the room.
The Lake was the B-side to James' 1993 hit Laid, which was surprisingly not played here, although there were enough signature songs in its absence. The sporadic outbreaks of crowd standing and dancing in a generally polite room became more feverish as She's A Star, We're Going To Miss You, Tomorrow, Sometimes and the chanting, inclusive Many Faces punctuated those deep dives.
James have been around for a long time, but the energy they created here was still vigorous and exciting.